Major in Biology
FALL 2007 ASA GRAY SEMINARS
September 17, 2007
"Bioengineering Approaches to Nerve Regeneration after Spinal Cord Injury"


Julie M. Hasenwinkel
, Ph.D., Assistant Professor
Department of Biomedical and Chemical Engineering,
Syracuse University
There are approximately 250,000 spinal cord injured people living in the United States today, with nearly 12,000 new injuries occurring each year. Spinal cord injury (SCI), and the resulting paralysis, is not only physically and emotionally devastating for these patients and their families; the lifetime costs associated with caring for these individuals is significant as well. Nerve regeneration, to the point of functional recovery, fails in the spinal cord and central nervous system after injury. This is primarily due to the formation of the glial scar, which inhibits neuronal outgrowth due to the presence of a number of inhibitory molecules, including chondroitin sulfate proteoglycans (CSPGs). The glial scar has been cited as a biochemical and mechanical barrier to regeneration; however, the mechanism by which CSPGs inhibit neuronal outgrowth is unclear.
Our laboratory is exploring many aspects of this complex injury and our work is currently guided by the following questions:
1. How does the mechanical environment change in spinal cord tissue following injury, and does this correlate with biochemical changes at the site of the glial scar?
2. Can we modulate the environment, both from a biochemical and mechanical standpoint?
3. Can we promote regeneration by further optimizing the environment through the use of biomaterials-based substrates?
We are using a combination of microindentation techniques, nanosphere-based drug delivery, and mechanically-tuned, micropatterned hydrogels to explore these questions, in order to better understand spinal cord injury and develop therapies to treat it.
September 24, 2007
"Fetal Programming and the Etiology of Fetal Alcohol Syndrome"
Michael W. Miller
, Ph.D., Professor and Chair
Department of Neuroscience and Physiology,
Upstate Medical University
The salient features of fetal alcohol syndrome (FAS) are a diagnostic set of craniofacial malformations, intrauterine growth retardation, and mentaldysfun ction. Indeed, FAS is the most common cause of mental retardation in the United States and the rest of the Western world. FAS-associated problems result from disruptions of early development. The brain, because it develops over such an extended period of time, is particularly vulnerable to alcohol toxicity. Our studies have focused on mechanisms by which alcohol can interrupt early brain development. In particular, we have focused on processes of cell production, migration, and survival, processes that determine the number of neurons in the brain. Each process depends
upon genetic regulation as well as environmental agents such as growth factors. Alcohol can affect any and all processes of brain development. The effect is defined by the ongoing ontogenetic events and the effect of alcohol on the normally balanced contributions of nature and nurture in sculpting the developing brain.
October 15, 2007


"The Ecological and Evolutionary Effects of Hayfield Management on Grassland Songbirds"
Noah Perlut
, Ph.D., Professor of Biology
The Rubenstein School of Environment and Natural Resources,
University of Vermont
Over the last 40 years North American grassland bird populations have declined more than any other bird guild. This trend is especially evident in Vermont, where species experiencing precipitous declines include the Savannah Sparrow (Passerculus sandwichensis) and Bobolink (Dolichonyx oryzivorus). These declines are linked to habitat loss due to reforestation and suburbanization as well as the intensification of grassland management.
Modern grassland management includes earlier first-haying dates (late-May) and shorter intervals between haying events (35 days). These management practices have severe repercussions for songbird populations because 1) early-haying results in complete nest failure (99% Savannah Sparrow and 100% Bobolink nests), 2) the interval between the first and second haying is too short for birds to renest, and 3) intensively managed fields comprise a significant portion of the total available habitat (as much as 40%).
In 2002-2007, I examined how hayfield and pasture management affected grassland songbird ecological and evolutionary behavior in the agricultural landscape of the Champlain Valley, Vermont and New York. I studied songbirds in four grassland management types: early-hayed fields harvested in late-May or early-June and again in mid-July; middle-hayed fields harvested in late-June or early-July; late-hayed fields harvested after 1 August; rotationally-grazed pastures, a matrix of small paddocks where cows are moved after the grass in a paddock is eaten to a low point. I addressed the following objectives:
1. Determined the annual productivity, survival, and recruitment of Bobolinks and Savannah Sparrows in the four treatment types.
2. Identified the effects of early-haying on the social and genetic mating systems of Savannah Sparrows.
This study provides information on how agricultural management affects the ecology, evolution, and viability of grassland birds. It will help inform landowners, managers, and law-makers about management practices and habitat requirements needed to sustain populations.
October 22, 2007


"Bacterial multicellular behaviors as a target for new therapies"

Dr. Dacheng Ren
, Assistant Professor
Department of Biomedical and Chemical Engineering
Syracuse University
Bacteria have evolved complex multicellular behaviors, such as biofilm formation and quorum sensing, to initiate infections and to survive in competitive environments. These systems involve coordinated gene expression and lead to serious problems such as persistent infections and contamination of medical devices. In this presentation, we will discuss our progress in understanding the genetic basis of bacterial multicellular behaviors and drug resistance as well as the development of novel control strategies.
November 5, 2007


"The Water-Lilies of Australia"
C. Barre Hellquist
, Ph.D., Professor of Biology
Massachusetts College of Liberal Arts
Until the last twenty years the native tropical water-lilies of Australia consisted of four species in three different subgenera. Today three subgenera are still recognized with Nymphaea pubescens in the subgenus Lotos, N. nouchali in the subgenus Brachycerus, and ten species in the truly Australia, New Guinea subgenus Anecphya. Extensive work in the past 20 years by Surrey Jacobs (Royal Botanic Gardens, Sydney), Barre Hellquist, John Wiersema, Cornelia Lohne, and Thomas Borsch have brought about the greater understanding of the Anecphya. This subgenus consists of some of the most beautiful water-lilies in the world. They may be white, blue, lavender, dark purple, pink, and changeable. The blossoms may stand 18 inches above the water surface with leaves up to 30 inches in diameter. The Anecphya is divided into two main groups, the large-seeded (N. gigantea group)and the small-seeded (N. violacea group). Extensive fieldwork continues, as recent as the summer of 2007, on the subgenus Anecphya in tropical Queensland. Both the large-seeded and small-seeded groups still need extensive work with as many as five more possible species to be described.
November 19, 2007
"Wind turbines and birds: observations from a land-based wind turbine on Cape Cod"
Lucy Vlietstra
, Ph.D., Assistant professor of Marine Safety & Environmental Protection
Department of Marine Safety and Environmental Protection, Massachusetts Maritime Academy
Wind power is the fastest growing energy industry in the world, a trend embraced by some scientists promoting clean and renewable energy. Others, however, challenge the benefits of wind development citing concern that wind turbines threaten avian populations. Their view is supported by the large number of birds killed by wind turbine rotors in some parts of the country. Conflicts surrounding these issues are a daily part of life on Cape Cod, Massachusetts, where two large wind farms have been proposed for offshore waters that support numerous migratory and resident waterbirds. When Massachusetts Maritime Academy recently constructed a single, commercial-grade wind turbine on the shoreline of Cape Cod, we had an opportunity to assess its potential impact on the survivorship of local birds, including one endangered species, roseate terns. In this presentation, I discuss our findings in light of the issues surrounding wind turbines and avian conservation.
---
Admissions Events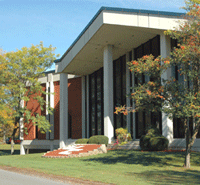 JOIN US ON CAMPUS:

EXPERIENCE UC

Meet students and faculty, tour campus, and join us for lunch.
Learn more / register


SATURDAY INFO SESSIONS
Q&A with staff followed by a campus tour.
Learn more / register
OPEN HOUSE
Learn more about programs, financial aid, student life, more.
Learn more / register
Upcoming events >
"Without any doubt in my mind, one of the only reasons that I was able to complete my education and successfully enter my current position as a Ph.D. candidate in genetics was due to the constant support and guidance that I received at UC."
"Without any doubt in my mind, one of the only reasons that I was able to complete my education and successfully enter my current position as a Ph.D. candidate in genetics was due to the constant support and guidance that I received at UC."
~
Susan A. Zullo
'92
National Center for Human Genome Research