Residence Life
Alumni Hall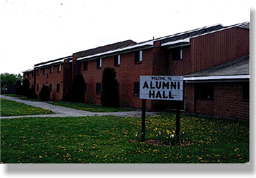 Alumni Hall is a facility for upperclass students containing 16 garden-style apartments. Each apartment includes a living room, kitchen, bathroom, and dining area. There are also apartments specially designed to accommodate the physically challenged.
Free cable hook-up and on-campus phone service are provided in each apartment. College network access including Internet capabilities are offered in the apartment bedrooms and living rooms.
Please note that all Residence Halls are smoke free.