The K. Della Ferguson Womyn's Resource Center
Staff
Advisor:


Alane Varga has been at Utica College for more than 30 years, working with the Womyn's Resource Center since its beginnings. Alane first served as a counselor in Academic Support Services, later as Dean of Students, and currently as Dean of Diversity and Student Development. Her personal philosophy is: "It is necessary to teach by living and speaking those truths which we believe and know beyond understanding….for it is not difference which immobilizes us but silence."-Audre Lorde


Interns at the Womyn's Resource Center:


Courtney Parada is a Programming Intern at the Womyn's Resource Center. She is a junior majoring in Spanish and Adolescence Education. She joined the Womyn's Resource Center, because she loved how the center was there to help and inform womyn in need. Her favorite quote is "Life is not measured by the number of breaths we take, but by the moments that take our breath away." -Maya Angelou.

Chochanmyei Oo is a Programming Intern at the Womyn's Resource Center. She is a junior and an international student from Myanmar-Burma. She wanted to work for the Center because she wants to change the community to be a better one and empower youth, especially young women. Women's rights should not be a special privilege for women, but an equal right for every human being. As a woman who has tried to come out of a traditional society, she believes that women need to be strong advocates for their opinions and social status.


Programming Assistants at the Womyn's Resource Center:


Yenisse Hernandez is a Nursing major from Manhattan. She decided to work at the Center because she wanted to get involved on campus. One of the things Yenisse appreciates the most about working in the Center is the ability for her, as well as her co-workers, to make of the Center what they want it to be. Her favorite quote is, "What's worse than been blind is having sight with no vision" - Hellen Keller.

Sydney Tompkins is the Administrative Assistant at the Womyn's Resource Center. She is a sophomore majoring in History with a minor in Education. She wanted to work for the Center after volunteering during her freshman year. She learned through many of the Center's events the importance of women's rights, empowerment, and health, and realized that she wanted to be a part of the fight. Her favorite quote is, "All that is gold does not glitter, not all those who wander are lost." – J.R.R. Tolkien

Margarita Cuevas-Cruz is a senior and a Sociology/Anthropology major with a minor in History. She is a Programming Intern and was introduced to the Center her sophomore year as a Programming Assistant. Her passion for ending abuse against women and children made her look into the WRC and she uncovered a new place to build and use her knowledge of women's issues. Her driving force and motivation is her mother, sisters and women who were silenced by pain. Her favorite quote is "An eye for an eye makes the whole world blind."- Mahatma Gandhi reintroduced by Martin Luther King Jr.

Kanin Sanders is a junior majoring in Public Relations with a minor in Computer Science. He loves the Womyn's Resource Center because it provides a safe, judgment free zone on the Utica College campus for people that is not widely available in all places. His favorite quote is "The revolution will not be televised"- Gil Scott-Heron

Auriel Farley is a junior Journalism major with a minor in Art History. I choose to work for WRC because my goal is educate people on women's rights including abuse. Her favorite quote is "I like being a strong, independent woman, and to be honest, I was never afraid to be on my own."

Chelsea Alleyne is a sophomore majoring in Child Life Psychology. She loves that the Center is for women on and off campus to express the problems that they face today and its something positive on campus that she enjoys. Her favorite quote is "Who looks outside dreams, who looks inside, awakes"- Carl Jung

Miranda Thomas is a senior majoring in Health studies. She loves the center because it is a place where not only women but all people can come together as one. She believes that it is very important for people to be comfortable in their own skin as well being able to speak about difficult topics and the Center creates that comfortable and safe environment for people to do so. Her favorite quote is, "Woman" is my slave name; feminism will give me freedom to seek some other identity altogether." –Ann Snitow

Marise Singh is a senior Liberal Studies and Childhood Education major. This is her first year working with the K. Della Fergerson's Womyn's Resource Center.

Diamond Fennell is a sophomore majoring in Business Management with a minor of Gerontology. Diamond loves the WRC because she wanted to help inform people on what is going on around the world. She wants people to know that they aren't the only ones facing problems and that other people can help them get through their problems. She feels that if her peers see someone their age that has the confidence to ask questions and educate themselves then they would be motivated to want to do it themselves without being ashamed.

Her favorite quote is, "Knowledge power! But it's only power if you use it."


Our Volunteers include Loren "Weso" Ashley, Sara Abdul-Aziz, Tatianna Betances, Domenica Carpenter, Abigail David, Qwelan Dopwell, Daria Druzhinia, Wayne Edwards, Alexander King, Tammie Miller, Vaughnee "Speedy" Simmons, and Kasey Peel.


---
Student Activities
Office Hours
SCHOOL YEAR HOURS
Monday - Thursday

8:30am to 6:30pm

Friday

8:30am to 5:00pm

Saturday - Sunday

CLOSED
SUMMER HOURS
Monday - Friday

8:30am to 4:30pm

Saturday - Sunday

CLOSED

STREBEL STUDENT CENTER

24 hours, 7 days
SafeZone Program:
The Gay Alliance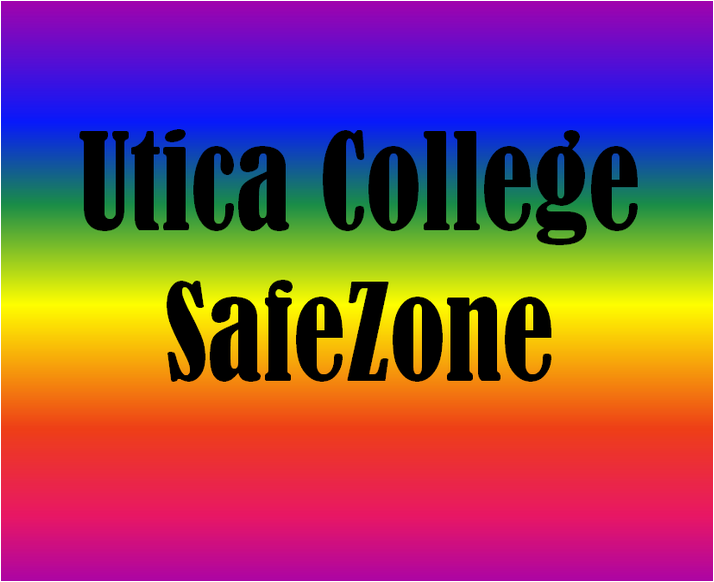 Adapted from www.GayAlliance.org
The SafeZone program was created to develop, enhance and maintain environments in workplaces, schools and other social settings that are culturally competent and supportive to LGBTQ (lesbian, gay, bisexual, transgender and queer/questioning) individuals, as well as straight, cisgender people who care about diversity, equality and inclusion.


What is a SafeZone?
A safe zone or a safe space is a place where all people feel welcome and safe. It may be a room, a car, or an entire college campus. The Gay Alliance SafeZone program aims to increase the awareness, knowledge, and skills for individuals and address the challenges that exist when one wants to advocate for their LGBTQ peers, family members, friends and co-workers. Creating safe zones or safe spaces is a proactive step that schools, agencies and corporations can take to create welcoming, inclusive spaces so that all people are empowered to reach their full potential.

Sponsored by the Diversity Committee
Contact Marissa Finch
mmfinch@utica.edu
or Fran Lucia
flucia@utica.edu
for more information or how to become SafeZone Certified