Student Activities
Joining a Greek-letter Organization at UC
Fraternities and sororities select their members through a recruitment process, sometimes referred to as "rush." The membership selection process for the ethnically-based organizations is called intake.

Rush and Recruitment:
The membership selection process or recruitment occurs each semester, although some organizations only conduct membership recruitment on a continuous basis. The continuous recruitment process can be more of an informal recruitment process in which each group selects its members independently; however, each organization has a common recruitment period and recruitment orientation and informational events.
All recruitment activities must be dry (i.e.,

no alcoholic beverages permitted

)
.
Minimum Requirements: Each
semester, students are offered a variety of opportunities to learn about and join Greek-letter
organizations. To become involved, students either participate in recruitment (sometimes informally referred to as "rush") or attend informational/interest meetings. To join students must be regularly enrolled in classes at Utica College, must have a minimum 2.0 grade point average and are required to be in good academic standing (not on academic probation).

Individual organizations have minimum grade point average requirements, ranging from a 2.0 to 2.75 cumulative college grade point average for continuing or transfer students.

First semester freshmen are

ineligible to join.

Most chapters also have additional requirements regarding community service and other requirements. All interested members must attend Greek 101, a program which includes identifying and responding to hazing and be approved by the fraternity and sorority advisor.
New Member Education:
Students become fully acquainted with the chapter and its members during the new member education process. In this period new members learn about their chapters, including the national organization structure (if applicable), values, expectations, traditions and rituals. In addition, new members are required to attend new member development workshops, sponsored by the Office of Student Activities on topics, making low-risk choices concerning alcohol and other drugs, and appreciating diversity.

At any time before initiation, new members may "de-pledge" if they feel the organization is not right for them.
Hazing is strictly prohibited by Utica College as outlined in the Inter Greek Council Constitution and Student Code of Conduct.
Upon the successful completion of the new member education process, students will be initiated into the chapter. Initiation is the formal conferring of the chapter's rights and privileges to a member. Once initiated, members of Greek chapters enjoy the rights and privileges, as well as the responsibilities that come with affiliation.
Financial Obligations:
Though joining a Greek Organization does carry a financial commitment, typically the first semester of membership is usually more expensive than the second because of initiation cost. On average, costs could run anywhere from $40 a semester to $500. Interested members should check with each individual organization as memberships and pledging dues may vary.
---
No-Hazing Policy
Utica College
No-Hazing Policy


Utica College defines hazing to include any action that intentionally or recklessly causes or poses a substantial risk of harm to the mental or physical health or safety of one or more persons. Violations of this policy will result in referral to Judicial Affairs and possible disciplinary actions.
Full Policy found
HERE
For more information or if you would like to report a hazing incident please contact Fran Lucia in the Office of Student Living and College Engagement at 315-792-3037.








Chi Beta Sigma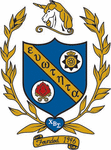 Lambda Sigma Upsilon
Omega Phi Beta

Phi Beta Sigma


Sigma Iota Alpha
Theta Phi Alpha