Student Activities
Greeks Today, Leaders

Tomorrow
Fraternities and sororities mean more than just wearing letters, attending meetings and going to social events. It is a feeling and sense of belonging. Making life long friends and being yourself and being respected for your individuality. More importantly it's your family away from home.
Benefits of Joining a Fraternity or Sorority

Service: Fraternities and sororities at Utica College spend thousands of hours a year doing community service projects and raising money for charities. Each chapter has its own philanthropy, which serves at a local and national level, but all donate services to local agencies. Fraternities and sororities are involved in a wide variety of activities on the UC campus.
Leadership: Greek Life provides an excellent place to gain the experience and knowledge necessary for successful leadership. Each Greek chapter is self-governing and relies on the special talents of its members for successful management. Fraternity men and sorority women just don't belong to these organizations; many hold the highest leadership positions. Involvement and active participation in activities are encouraged and enable members to develop knowledge and skills necessary to succeed in the fast-paced job market of today.
Scholarship: Greek lettered organizations were founded on the principal of scholarship and achievement. At Utica College the all Greek average is consistently higher than the all undergraduate average. Academics are the reason you come to UC and the fraternities and sororities performance reflects their commitment and standard to scholarship. Studies indicate that more students in sororities and fraternities stay in school through graduation than do unaffiliated students.
Social: Utica College Greek life system provides a diverse selection of events to expose members to a wide variety of social programs. Formals, Homecoming, Greek Week, Mixers, parents dinners, individual organization retreats, National and local conferences all support the goal of bringing members together to develop the bonds of brotherhood and sisterhood.
Go Greek!!
---








Chi Beta Sigma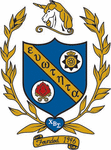 Lambda Sigma Upsilon
Omega Phi Beta

Phi Beta Sigma


Sigma Iota Alpha
Theta Phi Alpha