Student Activities
Ticket Procedures
The following procedures are to be followed by student organizations hosting events that require an admission fee:
All events requiring an admission cost (this is the definition of a ticket) must use the online box office, UticaTickets.com.
To request your ticket to be created on Utica Tickets, print out and hand in the Utica Tickets Request Form at least 2 weeks before your event. Form found here: http://utica.edu/student/activities/forms.cfm
Before you can register your event, your organization must have an Agency Account. Contact General Accounting, genacct@utica.edu (315) 792-3031 to find out if your organization has an Agency Account.
If your organization does not have an Agency Account one can be requested by submitting the Agency Account Request Form to General Accounting, 205 DePerno Hall. Agency Account Request Form found here: http://utica.edu/student/activities/forms.cfm
Tickets will be available to purchase online at any time using credit cards and in the Student Activities Office using cash during regular business hours.
Tickets can begin being sold at any time. Ticket sales will end no later than halfway through the event. The Office of Student Activities reserves the right to alter the ticket sale end time at their discretion.
If the event will have off-campus guests and is going to last longer that midnight, your organization must also fill out a Large Event Form that can be found online at: http://utica.edu/student/activities/forms.cfm
For an event with ticket sales, if the sponsoring organization will be collaborating with another organization, the Student Activities Office needs to be notified at least a week before the event.
In cases of collaboration, the Utica Tickets Request Form must detail the revenue split for each organization and must list all organizations' Agency Account numbers.
The sponsoring organization will be able to set aside a number of "comp" tickets. These are not to be sold under any circumstances and are only available for members of that organization.
Comp tickets will be given out to the event hosts by Student Activities if requested in writing in advance and picked up by the close of business hours the day before the event. For weekend events, pick up no later than the Friday before the event at close of business. They must be distributed before the event and are NON-TRANSFERABLE.
Organizations are prohibited from accepting cash for the sale of tickets at the door. Tickets can be purchased through the UticaTickets.com box office at the time of the event and shown at the door to gain entry, as long as sales are still open.
Cash donations at the door are acceptable. Donations are defined as optional undefined amounts of money that are not required for entry into the event. Donations must be collected in a container which is able to be closed.
It is the responsibility of the students to obtain the Utica Tickets ticket scanner from Student Activities during regular office hours before the event.
As a forewarning, the funds from selling tickets on Utica Tickets will not be deposited in your organization's Agency Account until about 6 weeks after your event is held.
Sponsoring organizations will recognize the validity of tickets only when the person is able to produce a picture ID. No tickets will be sold at the door or at any other location other than aforementioned areas before or during the event for any reason.
Ticket fees are charged to the organization and are taken off the total revenue. Fees are based on ticket pricing and are as follows:
If ticket cost FREE, fee $0.25 per ticket sold
If ticket cost $0.01-$9.99, fee $0.50 per ticket sold
If ticket cost $10.00-$19.99, fee $1.00 per ticket sold
If ticket cost $20.00 or above, fee $2.00 per ticket sold
Sponsoring organizations are responsible for including the following information in their advertising:
Tickets are to be purchased in advance.
No tickets will be sold at the door.
Date, time and location of the event.
Name of the organization hosting the event.
When and where tickets will be available.
The need to have ID with your ticket for admission and the fact that the ID will be asked for at the door.
Every guest who attends a large event must be a guest of a Utica College student. Only one guest per student will be allowed.
UC parties may not be advertised anywhere off campus or on other college campuses; violation of this restriction is grounds for immediate cancellation of the party.
Sponsoring organizations will also enforce the "once you pay, you stay" rule. This rule applies to people who pay for the party and then either loiter in the lounge or leave the event venue building, only to return minutes or hours later. The rule requires people to pay for the event and then remain inside the venue. If they leave the building they shall not be readmitted. If a Campus Safety Officer or a Utica College Staff member asks someone to leave, they must leave immediately, or face consequences.
Those attending the event must possess a ticket and present a valid college ID or be a guest of a Utica College student. If the host leaves, the guest must also leave. No guest is allowed to enter or stay at the event without their host being present.
The established capacity of the event space (175 for the Pioneer Pub, 300 for the left side of the Dining Commons with the furniture removed) will not be exceeded. Tickets will only be sold up to the capacity of the facility, and comps count towards the capacity as well.
The supervising Campus Safety Officer or the organization's faculty/staff advisor has the authority to close down an event at any time. The sponsoring organization will fully cooperate and assist with such action if it becomes necessary, or face consequences.
Sponsoring organizations will assist with closing. Closing includes helping Campus Safety/local police to clear the premises and making certain that the venue is swept and cleaned. This means free of debris, spilled liquids, bottles, and cans at the end of the event and ensuring that tables and chairs are placed back in the proper configuration.
Sponsoring organizations that do not comply with these guidelines may lose their right to hold additional functions on campus and may be put through the Utica College Conduct Process.
---
OFFICE OF STUDENT LIVING AND COLLEGE ENGAGEMENT
SafeZone Program:
The Gay Alliance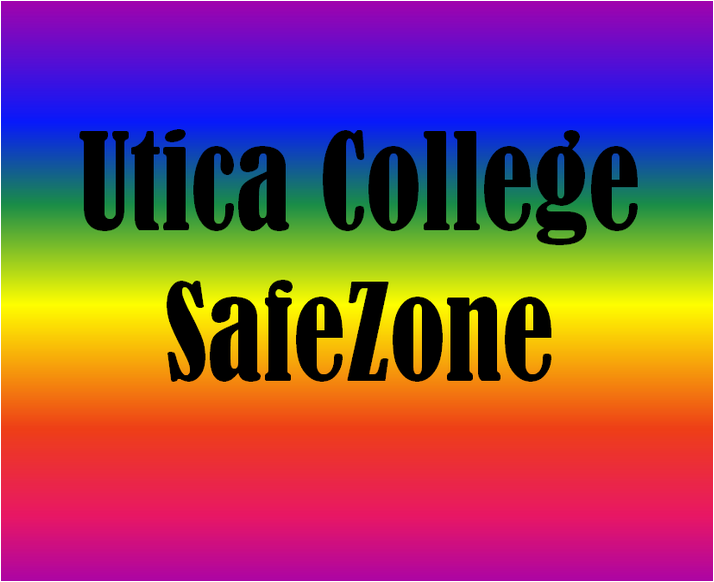 Adapted from www.GayAlliance.org
The SafeZone program was created to develop, enhance and maintain environments in workplaces, schools and other social settings that are culturally competent and supportive to LGBTQ (lesbian, gay, bisexual, transgender and queer/questioning) individuals, as well as straight, cisgender people who care about diversity, equality and inclusion.

What is a SafeZone?
A safe zone or a safe space is a place where all people feel welcome and safe. It may be a room, a car, or an entire college campus. The Gay Alliance SafeZone program aims to increase the awareness, knowledge, and skills for individuals and address the challenges that exist when one wants to advocate for their LGBTQ peers, family members, friends and co-workers. Creating safe zones or safe spaces is a proactive step that schools, agencies and corporations can take to create welcoming, inclusive spaces so that all people are empowered to reach their full potential.

Sponsored by the Diversity Committee
Contact Dean of Diversity and Student Development Alane Varga at avarga
@utica.edu
for more information or how to become SafeZone Certified