Professional Staff
---
UC NEWS
Inspirational Leadership Event Wednesday
Sponsored by UC, Express Employment Professionals, Genesis Group
Written By Tyler Gardinier '14, PR Intern
Featuring John Mackey, Dick Vitale, Christine Cashen
---
Contact
cleogrande@utica.edu
Utica, NY (04/15/2014)
- On Wednesday, April 16, Utica College, Express Employment Professionals and The Genesis Group will host "Refresh Leadership Live" at 8:30 a.m. in the Carbone Family Auditorium, Economic Crime, Justice Studies and Cybersecurity building on the Utica College campus.
"Refresh Leadership Live will give local business leaders and human resource professionals an opportunity to learn more about the principles of great leadership from a group of speakers that, through their successes, can share their insight," said John Calabrese, owner and president of Express Employment Professionals in New Hartford.
The program features John Mackey, founder and CEO of Whole Foods; Dick Vitale, legendary sports analyst; and Christine Cashen, renowned motivational speaker.
Mackey will share his thoughts on how leaders can personally grow and evolve to, in turn, grow and engage employees and the company itself. Vitale will share the lessons he learned from sports, addressing the problems of life head-on, with boundless humor and optimism. Cashen will wrap up the simulcast by sharing her secrets to handling stress and conflict, and energizing yourself and co-workers.
The event is free of charge and will begin at 8:30 a.m. with closing remarks around 12:25 p.m.
For more information or to register, visit refreshleadership.com/live or contact John Calabrese at 315-790-5723 or John.Calabrese@expresspros.com.
The Refresh Leadership Live Simulcast is sponsored by Express Employment Professionals of Mohawk Valley, Utica College and The Genesis Group. It will be simulcast to 175 locations across the United States.
About Utica College – Utica College, founded in 1946, is a comprehensive private institution offering bachelors, masters and doctoral degrees. The College, located in upstate central New York, approximately 90 miles west of Albany and 50 miles east of Syracuse, currently enrolls over 4,000 students in 36 undergraduate majors, 27 minors, 21 graduate programs and a number of pre-professional and special programs
---

WORKING @ UC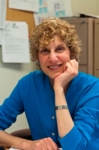 Camille Sciortino
Coordinator, Corporate & Foundation Partnerships