Professional Staff
---
UC NEWS
UC to Host Beautifully Messy Festival of Colors
Traditional Holi Festival of Colors Held 'Round the World
Written By Colleen Bierstine '15, PR Intern
Event sponsored by a number of student groups
---
Contact
cleogrande@utica.edu
Utica, NY (04/15/2014)
- Utica College will host the Holi Festival of Colors on Friday, April 18 at 5 p.m. on the residential quad.
The messy but fun festival involves releasing a spectrum of colored powders into the air, coating participants in a rainbow of splatters. The festival of colors is traditionally held in India and Pakistan, but places around the world now hold their own celebrations.
Holi was originally a commemoration of good harvests and fertile land. Now, it is has evolved into a way of celebrating the beginning of the new spring season.
Hindus believe it is a time of enjoying spring's abundant colors and saying farewell to winter. It also has a religious purpose to commemorate events in Hinduism, representing the triumph of good over bad.
The event is free and open to the college community. It is co-sponsored by a number of student groups, including the Asian Student Union, IGC, Student Senate, UC Medical Society, Investment Club, WPNR, and the Organization of Justice Studies.
For more information, visit https://pioneerplace.utica.edu/organization/ASU/calendar/details/402424.
---

WORKING @ UC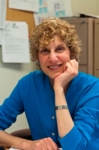 Camille Sciortino
Coordinator, Corporate & Foundation Partnerships