Professional Staff
---
UC NEWS
Film@UC Presents "A Touch of Sin"
Award-Winning Chinese Film Depicts Violence, Corruption
Written By Victoria Lamanna '15, PR Intern
Based on a true story
---
Contact
Christine Leogrande, cleogrande@utica.edu
Utica, NY (01/21/2014)
- On Thursday, Jan. 30, Film@UC will present the 2013 Chinese film "A Touch of Sin" as part of Utica College's Cultural Events series.
"A Touch of Sin," based on a true story and directed by Jia Zhanghe, follows the life of a miner, a receptionist, a migrant and a factory worker who all live in different provinces of China. Throughout the film, brutality and corruption in China are explored as each character is driven to a violent end. "A Touch of Sin" won Best Screenplay at the Festival de Cannes and was an official selection at the 51st New York Film Festival in 2013.
This film is free and open to the public, and will be shown in the Macfarlane Auditorium in the college's DePerno Hall at 7 p.m. For more information, call (315) 792-3047 or visit utica.edu/culture.
About Utica College – Utica College, founded in 1946, is a comprehensive private institution offering bachelor's, master's, and doctoral degrees. The College, located in upstate central New York, approximately 90 miles west of Albany and 50 miles east of Syracuse, currently enrolls over 4,000 students in 36 undergraduate majors, 27 minors, 21 graduate programs and a number of pre-professional and special programs.
---

WORKING @ UC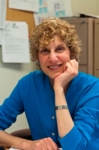 Camille Sciortino
Coordinator, Corporate & Foundation Partnerships