Professional Staff
---
UC NEWS
UC Hosts National White Collar Crime Center Training
Local Law Enforcement Get High-Tech Training
Written By Colleen Bierstine '15, PR Intern
NW3C conducting state-of-the-art training
---
Contact
cleogrande@utica.edu
Utica, NY (01/07/2014)
- The National White Collar Crime Center (NW3C) is conducting training for local law enforcement professionals in Utica College's Economic Crime, Justice Studies and Cybersecurity building (ECJSC) through Jan. 8.
The training covers "Identifying and Seizing Electronic Evidence" and is taught by expert instructors from the NW3C. This course provides the necessary knowledge and skills to respond to an electronic crime scene and collect essential evidence.
The training is sponsored by the Economic Crime Institute of Utica College and the Oneida County District Attorney's Office. It is being held in the Carbone Auditorium in UC's ECJSC building.
"Instructing our law enforcement officers in the proper procedures while identifying and seizing electronic evidence is essential for successful prosecutions," said Raymond Philo, professor of practice and director of the ECI. "In this era of escalating cybercrime, a well-trained workforce is our best defense. Utica College is well-positioned to host this training because of our long-standing relationship with NW3C and our state-of-the-art facility."
The NW3C provides support for the prevention, investigation and prosecution of economic and high-tech crime through a combination of research, training and investigative support services. It has more than 4,000 member agencies in the U.S. as well as 15 other countries throughout the world.
UC's Economic Crime Institute is a unique organization of professionals and academics that prepares students to prevent, detect, investigate and prosecute economic crimes. It provides continuing education opportunities for economic crime investigation professionals while supporting leading-edge thinking through educational programs, policy guidance and solutions, research and publications.
The Economic Crime Institute fosters a rich learning environment that positions graduates to assume key roles in the fields of criminal justice, economic crime, fraud and risk management, law enforcement and cybersecurity.
For more information on UC's Economic Crime Institute, visit http://www.ecii.edu/.
About Utica College – Utica College, founded in 1946, is a comprehensive private institution offering bachelor's, master's, and doctoral degrees. The College, located in upstate central New York, approximately 90 miles west of Albany and 50 miles east of Syracuse, currently enrolls over 4,000 students in 38 undergraduate majors, 29 minors, 20 graduate programs and a number of pre-professional and special programs.
---

WORKING @ UC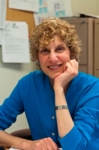 Camille Sciortino
Coordinator, Corporate & Foundation Partnerships