Award-Winning Journalist to Deliver UC Commencement Address
PBS Stalwart, Acclaimed Author Ray Suarez to Speak to Class of 2010
Best known for his work on "The News Hour"
---
Contact
cleogrande@utica.edu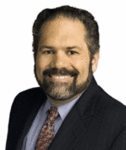 Utica, NY (04/14/2010)
- To fans of PBS's "The News Hour," he is the trusted and sartorial presence they see tackling some of the thorniest issues of our day, earnestly probing for answers from both the rich and powerful and the meek and powerless among us as Senior Correspondent for the highly touted show. But Ray Suarez is so much more than a face on television. Suarez, this year's speaker at Utica College's 61st commencement on Sunday, May 16, is an award-winning journalist and author who has won praise for his passion and professionalism in pursuing his craft.
Suarez joined "The News Hour" in 1999 after a six-year stint hosting the NPR news program Talk of the Nation. Prior to that, he spent seven years as a reporter for WMAQ-TV in Chicago. He has been a correspondent for CNN, a producer for the ABC Radio Network in New York and a reporter for CBS Radio in Rome.
Suarez was a co-recipient of NPR's DuPont-Columbia Silver Baton Award for his on-site coverage of the first all-race elections in South Africa and his reporting on the first 100 days of the 104th Congress. In 1996, Suarez was honored with the Ruben Salazar Award from the National Council of La Raza. In 2005, Suarez received the Distinguished Policy Leadership Award from UCLA's School of Public Policy. His latest book, "The Holy Vote: The Politics of Faith in America," won the 2007 Latino Book Award for Best Religion Book.
After he earned his bachelor's degree in African History from NYU, Suarez completed his master's degree in social sciences at the University of Chicago. He has received honorary doctorates from several institutions, most recently from the Lewis and Clark College. He is a winner of the Benton Fellowship in Broadcast Journalism at the University of Chicago. Suarez has also been honored with a Distinguished Alumnus Award from NYU and a Professional Achievement Award from the University of Chicago.
UC Associate Professor of Journalism David Chanatry, a veteran broadcast news producer for NBC, thinks Suarez is an acclaimed figure in the industry. "He is perhaps one of the most thorough and trusted journalists working in broadcast news today," he said. "This is a great opportunity for our students to learn from his nuanced and thoughtful insights into today's most important and pressing issues."
About Utica College – Utica College, founded in 1946, is a comprehensive private institution offering bachelor's, master's, and doctoral degrees. The College, located in upstate central New York, approximately 90 miles west of Albany and 50 miles east of Syracuse, currently enrolls over 3,200 students in 37 undergraduate majors, 27 minors, 21 master's and two doctoral degree programs.
---
Fast Facts
Founded in 1946, UC is a comprehensive institution that offers bachelor's, master's and doctoral degrees.
UC enrolls 3,089 full- and part-time undergraduate students, and 1,366 full- and part-time graduate students.
The College offers 37 undergraduate degrees in more than 60 areas of study.
The College offers 21 graduate programs, including master's degrees, doctoral programs, and graduate-level certificates. Options include:
business administration
cybersecurity - intelligence and forensics
economic crime management
education
health care administration
liberal studies
occupational therapy
physical therapy