01/28/2016
UC Cyber Students, Prof Co-Author Professional Paper
Paper Published as Book Chapter on Future of Cybersecurity
UC students contribute to book on cybersecurity
...More
01/14/2016
New Study Finds Companies at Risk for Fraud
Protiviti, Utica College Survey Finds Lack of Proactive Fraud Risk Management Poses Significant Risk to Corporations
Majority of companies not prepared to conduct investigations, study finds
...More
01/07/2016
UC Partners with National Society of Compliance Professionals
Creates More Opportunities for Finance Professionals
Industry regulations and government legislation have created greater need for specially-trianed compliance professionals
...More
01/07/2016
Student 'Watchdogs' Explore Utica's Most Controversial Issues
Last semester, students in Brett Orzechowski's Watchdog Reporting class rarely found themselves in the classroom. Instead, they spent dozens of hours digging through lawsuits, talking with Utica police offers, observing proceedings at the city's drug court, attending school board meetings, and interviewing refugees, administrators, and elected officials.
...More
01/07/2016
UC Cyber Adjunct Named to Forbes List
Lee Named to Top 30 Under 30 in Enterprise Tech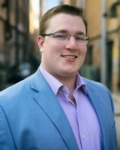 UC Cyber Masters Grad, Adjunct Instructor Named to Forbes List
...More
12/15/2015
UC Greek Organizations Help Local School Children
Students Spread Holiday Cheer to Local Elementary School
Utica College's Inter Greek Council (IGC) has raised more than $1,300 for its holiday service project, "Adopt-A-Classroom" at Kernan Elementary School in Utica.
...More
12/11/2015
A Dome to Call Home
For Utica College's track and field athletes, the Dome's opening marks a new beginning.
"We are taking advantage of getting in the actual sand and having a full runway; our runway outside is only 50-feet long. It's just great having a home of our own." --Sarah Wiatr, Sprint/Jump
...More
12/09/2015
UC to Dedicate Sports Dome Dec. 12
Named After President, Mrs. Hutton
Utica College will dedicate the Todd and Jen Hutton Sports and Recreation Center on Saturday, Dec. 12, at 9:30 a.m. The dedication will take place just prior to the Jen and Todd Hutton Invitational Track and Field Meet.
...More
12/09/2015
Young Scholars to Host Grow Big Dreams Celebration Dinner
Seeking Sponsors, Advertisers for First-Time Event
Silent auction items also needed
...More
12/03/2015
Professor, Author to Speak on China's War on Corruption
Pi Alpha Sigma Hosts Expert on China Studies
Professor to discuss rapid growth, rising corruption in China
...More
---
Fast Facts
Founded in 1946, UC is a comprehensive private institution that offers bachelor's, master's and doctoral degrees.
UC enrolls 4,400 full- and part-time students, on campus and online.
The College offers 38 undergraduate majors and 31 minors.
The College offers 21 graduate programs, including master's degrees, doctoral programs, and graduate-level certificates. Options include:
business administration
cybersecurity - intelligence and forensics
financial crime and compliance management
education
health care administration
occupational therapy
physical therapy