Alumni Relations


News stories
These are some current news items of interest to UC alumni:
UC Dedicates Connie Gaetano Plaza
Stadium Additions Named in Philanthropist's Memory
Written By Colleen Bierstine '15, PR Intern
Dedication ceremony held before Pioneer football game
---
Contact
cleogrande@utica.edu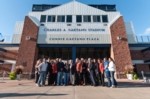 Utica, NY (10/01/2012)
- Before the football game at Utica College recently, a crowd gathered at the Charles A. Gaetano Atheletic Stadium for the dedication of the new Connie Gaetano Plaza. The plaza was built in memory of humanitarian and civic contributor Connie Gaetano.
She was remembered as an incredibly giving spirit, a philanthropist, a generous contributor to the community and a family matriarch. Her husband Charlie Gaetano and children Bill, Brian, Chuck, Colleen, Mary and Gregory Gaetano were all a part of the Saturday ceremony to commemorate the extraordinary woman that Connie Gaetano was.
The renovations to the stadium included adding a comfort station, with new restrooms.
Convocation Address

MARK P. SALSBURY '79


"Here at UC, the journey is immersing yourself in the college experience, both academically and through participation in student activities.."

Read full text >
"I can honestly say, that I am a better person for having received my education from Utica College."
"As a returning adult student, I felt the program was perfect. The class size was small allowing for individual attention when I needed it. I always felt known and accepted as an individual, not just a number among many. The professors were encouraging and helpful in many areas, not just academics. They took a personal interest in us as people, not just students. When I had a difficult time, my professors gave me the extra little push that I needed to continue. I can honestly say, that I am a better person for having received my education from Utica College. Today I teach high school mathematics and also a course at HCCC. The education I received at Utica College has prepared me well for my position teaching the higher math courses in high school. Returning to college to obtain my Bachelor Degree in mathematics was the one of the best decision I ever made. Choosing Utica College made that decision even better."
Diane Roberts '02
High School Math Teacher
Full Quote
Share
|