Alumni Relations


News stories
These are some current news items of interest to UC alumni:
UC Dedicates Connie Gaetano Plaza
Stadium Additions Named in Philanthropist's Memory
Written By Colleen Bierstine '15, PR Intern
Dedication ceremony held before Pioneer football game
---
Contact
cleogrande@utica.edu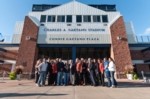 Utica, NY (10/01/2012)
- Before the football game at Utica College recently, a crowd gathered at the Charles A. Gaetano Atheletic Stadium for the dedication of the new Connie Gaetano Plaza. The plaza was built in memory of humanitarian and civic contributor Connie Gaetano.
She was remembered as an incredibly giving spirit, a philanthropist, a generous contributor to the community and a family matriarch. Her husband Charlie Gaetano and children Bill, Brian, Chuck, Colleen, Mary and Gregory Gaetano were all a part of the Saturday ceremony to commemorate the extraordinary woman that Connie Gaetano was.
The renovations to the stadium included adding a comfort station, with new restrooms.
Convocation Address

MARK P. SALSBURY '79


"Here at UC, the journey is immersing yourself in the college experience, both academically and through participation in student activities.."

Read full text >
"There is no question that my careers at GE and Rubbermaid wouldn't have worked out without the foundation that UC gave me."
"I chose business as a major for the financial background it gave me. My UC degree gave me the opportunity to build my career at General Electric, where I spent 31 years, ending up as senior vice-president of corporate marketing and sales. I then went on to run Rubbermaid for six years and ended up as CEO. There is no question that the GE career and the Rubbermaid career wouldn't have worked out without the foundation that UC gave me."
Walter Williams '61
CEO (Retired)
Rubbermaid, Inc.
Wooster, OH
Full Quote
Share
|