Campaign Overview




OBJECTIVES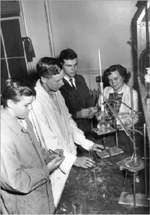 Utica College identifies these 10 broad objectives in its
Achieve: A New Dream, A New Era
comprehensive campaign:
(Click

icons for details.)

OBJECTIVE ONE

Provide access to advanced technology and modern equipment that will enable faculty and students to sustain UC's impressive record of scholarly achievements.



OBJECTIVE TWO
Serve as a catalyst for science and technology-related economic development in central New York.



OBJECTIVE THREE
Provide state-of-the-art classrooms, laboratories, faculty offices, and other facilities that foster effective teaching and learning and promote student success.



OBJECTIVE FOUR
Prepare students to succeed in a rapidly changing global society.



OBJECTIVE FIVE
Attract the best and brightest faculty whose commitment to teaching enables students to excel.



OBJECTIVE SIX
Create academic "Centers of Excellence" that draw students, faculty, and interested research parties from around the country and internationally to Utica College.



OBJECTIVE SEVEN
Partner with local business and government leaders to improve the quality of life in our community.



OBJECTIVE EIGHT
Engage the broader community in committing to higher education as an investment in the future.



OBJECTIVE NINE
Carry on the College's mission of providing educational opportunities for students from all walks of life.



OBJECTIVE TEN
Cultivate alumni, student, faculty, parent, community, and friend relationships with the College by building and sustaining volunteer engagement and support in all aspects of UC life.