Campus Safety
Access to Campus Facilities
Reserving Facilities
Access to campus buildings, grounds, and facilities are a privilege extended to Utica College's students, faculty, staff, and guests. Throughout the year the College hosts many events that are open to the public. Guests are restricted to those areas during events.
Residence halls are locked at all times. Guests must sign in at the front desk and be escorted within the halls at all times by the student they are visiting. Students are responsible for the actions of their guests.
Buildings are open during normally-scheduled classes, with the exception of the Frank E. Gannett Memorial Library and the Clark Athletic Center, which have extended hours. When classes are not in session or the College has officially been closed, access to buildings is restricted to students, faculty, and staff members with proper authorization.
Authorization for use of campus facilities must be obtained in advance. See
Reserving Facilities
.
---
To Reach A Safety Officer
Campus Safety Officers are available 24 hours a day and may be reached at the following numbers:


On Campus:

3046
or
611
Off Campus & Cell Phones:

315-792-3046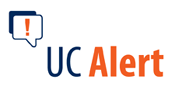 Get The (Text) Message.

UC Alert
helps keep you informed about safety concerns as they emerge.
Learn more →