Admitted Student Resources
Congratulations on your acceptance to Utica College. This page contains information that will assist you to make your enrollment process as seamless as possible. If you require assistance as you move through each of the steps please feel free to contact us at
orientation@utica.edu.
Things to do Today
Tuition Deposit:


Deposit card


If you have received your acceptance letter, please complete this form and return with tuition deposit to:
Office of Admissions
Utica College
1600 Burrstone Rd., Utica, NY 13502-4892



Student Financial Services:
If you have not done so already, you should complete the Free Application for Federal Student Aid (FAFSA) so your financial aid package can be completed.)
Complete the Student Financial Services Consent Form. You must fill out this form to communicate with the Office of Student Financial Services by e-mail, telephone, or in person.
Student Health Center Materials:
For more information about the student health center, visit the Health Center section or call (315) 792-3094.
Completed forms can be brought with you to orientation
.
If this is not possible, forms can be sent to:
Utica College Student Health Center
1600 Burrstone Rd., Utica, NY 13502
Or fax completed form to: (315) 792-3700
Information Technology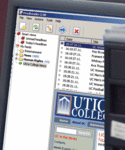 For a list of FAQ related to technology at UC, please visit the IT FAQ Page.
Campus Dining Services
Information about meal plans and dining options can be found here.




Things to do Tomorrow
In order to complete the steps below. It is necessary to have paid your tuition deposit. Please allow one business day for your payment to be processed.

Establish your username and password
Have your 9-digit "Banner ID" number ready (it can be found here)
Follow the on-screen instructions to set up your account access.

Check your UC Email


Your Utica College email helps you keep in touch with the faculty and staff here at Utica College. Please check this on a regular basis. You will use the username and password that you created above. Your email can be found at webmail.utica.edu

Orientation:
Registration for Summer Orientation will begin May 1!
More information and other resources can be found on the
Orientation page
or by calling (315)-792-3032.
Sign Up for UC Alert

Utica College keeps the campus community informed about safety concerns via UC Alert - an Emergency Text and E-mail Alert system. The system alerts all registered users by cell phone text message* (and/or by e-mail, if you choose) in the event of an emergency on or near campus. We encourage you to register for these alerts. You can register for this by clicking here.

Class Registration:


Fall Registration for First- Year and Transfer Students will begin in June. You will receive information through the mail about how to complete your fall registration. Specific instructions can be found
here.
Transfer students should contact their respective school offices to be put in contact with an academic advisor. More information about this process can be found here.
First year students, and transfer students with less than 24 hours need to take the math placement exam. This should be completed prior to summer orientation. Specific information on the math placement exam is sent directly to your Utica college email address.

Residence Life:
Student Housing Agreement & Resident Information Form
Those students planning to live on-campus must fill out and submit the housing agreement and resident information form found here.
Moosematch
Moosematch is an easy-to-use online system that helps resident UC students find compatible roommates. To create a profile, visit the Residence Life web page.
For more information about residence life at UC, visit our residence life page or call (315) 792-3285.

Admissions Reminder:
Please remember to have your transcripts sent to Utica College.
Utica College offers a unique and extremely popular Orientation Program!
Meet faculty and staff
Obtain important information
Learn about the life of a UC student from UC students
Get to know students/ parents
Got questions about the Orientation at UC? Use our E-Inquiry form...and get answers fast!
"Thank you...for a well orchestrated, well-received and successful Freshman Orientation."
"Thank you...for a well orchestrated, well-received and successful Freshman Orientation."
Steve Johnson, Blue Hill, ME
Father of Sarah Johnson '06
Share
|