Public Relations and Journalism
Public Relations and Journalism
@Utica College


MAJOR IN JOURNALISM

BACHELOR OF SCIENCE DEGREE


Course Descriptions


Note: For current course schedules, click here.

JLM 130 – Tangerine Practicum
(1) F,S
Participation on the staff of the campus
newspaper, the Tangerine. Weekly class
meeting required. Open to all majors.
May be taken four times for credit.

JLM 181 – Introduction to Mass Communication
(3) F,S
Introduction to study of mass communication,
including theories, effects, mass
media industries, government regulation,
and career opportunities.

JLM 241 – Introduction to the Sports Report
(3) S
Instruction and experience producing
and delivering broadcast sports reports
on radio and television newscasts.
Emphasis on sports writing for broadcast
and studio work.

JLM 259 – Broadcast News Writing
(3) S
Introductory instruction and experience
writing news stories for radio and TV.
Emphasis on writing anchor copy and
field packages including soundbites.

JLM 261 – Newswriting
(3) F,S
Elements of news, leads, style, and structure
of news stories.

JLM 262 – Reporting
(3) F, S
Instruction and experience in gathering
and reporting news. Emphasis on developing
stories in depth, interviewing
skills, following a beat. Writing for campus
newspaper required. Prerequisites:
Journalism Studies 261 or permission of
instructor.

JLM 276 – Television Field Production
(3) Y
Techniques and skills needed to produce
TV news stories. Emphasis on camera
work, audio recording, and video editing.
Same as Communication Arts 276.

JLM 362 – Reporting of Public Affairs
(3) Y
Instruction and experience in reporting
politics, police, courts, government, education,
environment, and other special
topics related to communities.
Prerequisite: Journalism 262.

JLM 363 – Magazine Article Writing
(3) Y
Non-fiction magazine articles and the
marketplace today, article ideas and
types, query letter writing, networking,
copyright, interviewing, search for
illustrations, writing styles, and research
techniques.

JLM 364 – Editing
(3) S
Skills and techniques required in editorial
positions. Copy editing, headline writing,
photo selection and editing.
Prerequisite: Journalism Studies 261.

JLM 365 – Publication Design
(3) F
Principles and techniques of design with
hands-on experience producing feature
newspaper pages, computer-designed
newsletters, and Web pages. Integrating
text, photos, artwork, and other graphic
elements.

JLM 371 – Advanced Reporting Techniques
(3) Y
Instruction and experience in advanced
reporting techniques. Each course offering
will have a single focus, rotating
among investigative reporting, database
reporting or feature writing.
Prerequisite: Journalism 262.

JLM 372 – Essentials of News Photography
(3) F
Use of still cameras to record news
events and create feature photos for
print media. Discussion of modern photographic
methods. Techniques of photojournalism.

JLM 373 – Advanced News Photography
(3) Y
Use of still cameras, scanners and large
manipulation software to produce photographs
for print and digital media.
Discussion of current photojournalistic
practice and techniques. Prerequisite:
Journalism 372.

JLM 374 – Sportswriting
(3) Y
Examines changes in nation's sports
pages, methods used to cover community,
college, amateur, and professional
athletics. Students work for area media.
Prerequisite: Journalism Studies 261.

JLM 378 – TV News Field Reporting and Production II
(3) Y
Producing news stories for broadcast.
Emphasis generating stories, reporting,
spot news, interviewing, writing to
video, production and post-production.
Prerequisites: Journalism
376/Communication Arts 376 or permission
of instructor. Same as
Communication Arts 378.

JLM 381 – Censorship
(3) F
History and analysis of censorship in the
United States. Impact on the press,
broadcasting, literature, film, and the
fine arts.

JLM 400 – Topics in Journalism Studies
(1–6) IR
Advanced consideration of selected topics
in journalism. May be repeated up to
six credit hours provided topics are not
the same. Prerequisite: Journalism
Studies 261 or permission of instructor.

JLM 401 – Media Ethics in Contemporary Society
(3) F
Ethical and moral considerations as they
apply to media and journalists; acceptable
and unacceptable practices of -
contemporary media. Discussion of
various media codes of ethics and their
applications. Prerequisite: Journalism
Studies 261.

JLM 450 – Field Work in Journalism
(3) Y
Total of 140 hours during semester at a
Central New York media site. One-hour
weekly class meeting. Topics include
resumes, cover letters, portfolios, jobhunting.

JLM 461 – Web Writing and Design
(3) IR
Writing and editing stories for online
presentation as well as examination of
the theoretical, ethical and legal issues
involved in working on the Web. Topics
include online story structure, linking
strategies, and Web usability and design.
Prerequisite: Journalism 261.

JLM 467 – Communications Law
(3) S
First Amendment theory, prior restraint,
libel, privacy, free press/fair trial, confidentiality
of sources, government regulation
of broadcasting, Internet, advertising.
No prerequisites.

JLM 470 - Internship
(1-12) IR
On-site experience with media. On-site
hours determined by credits. Weekly
journals and paper required. Permission
of instructor required. Prerequisites:
Journalism Studies 261 and 262.
Minimum grade of "C" in each. Course
may be repeated up to a total of 12
credits.

JLM476 Television Newscast
Plan and execute all facets of producing
weekly newscast, including selecting,
writing, editing and prioritizing stories.
Rotate through roles (anchor, producer,
writer, reporter, editor, camera). Programs
recorded in Simon studio. Course may be
taken twice. Prerequisites: JLM 259 and
JLM 276 or JLM 378 or permission of instructor.


JLM 290, 390, 490 – Independent Study
(3) IR
Individually supervised research and
study. Provides opportunity for students
to engage in original research or to pursue
scholarly investigations beyond the
boundaries of established courses.
Arranged by agreement between the
student and his or her instructor, subject
to approval of division dean. May
be repeated once for credit, though with
a different topic.



Note: The figure in parentheses following the title of the course indicates the credit hours per term. Courses that extend through two terms are shown as follows: (3, 3). Courses that are one term only are shown by: (3). Courses with variable credit are shown with the range of credit available, for example: (1-6).

Letters appearing after course credit hours in this section are explained as follows:
S=Spring
IR=irregularly
F=Fall
U=Summer Session
Y=at least once each academic year Check schedule for Winter Session
O=every other year

The College reserves the right to cancel any course if registration does not justify continuance and to make changes in curricula at any time.

---
Public Relations
and Journalism
@Utica College

---
Admissions Events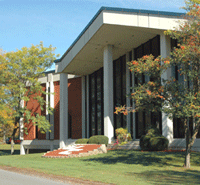 JOIN US ON CAMPUS:

EXPERIENCE UC

Meet students and faculty, tour campus, and join us for lunch.
Learn more / register


SATURDAY INFO SESSIONS
Q&A with staff followed by a campus tour.
Learn more / register
OPEN HOUSE
Learn more about programs, financial aid, student life, more.
Learn more / register
Upcoming events >
"I chose Utica's PR/J program because I wanted to learn the skills for my future career in a close-knit school community."
"I chose Utica's PR/J program because I wanted to learn the skills for my future career in a close-knit school community. UC gave me the basic skills I needed to get started on my career. And long after graduating, certain professors continue to help me grow through their advice, support, and sincere interest in seeing me succeed."
~
Angela Grande
'05
Producer
NBC Universal
New York, NY
Full Quote