Public Relations and Journalism
FACULTY




Cecilia Friend, M.A.
Professor of Public Relations and Journalism

Phone: (315) 792-3241
Office: 211 Faculty Center
http://www.utica.edu/faculty_staff/cfriend/homepagecf.cfm
Biography
---
Cecilia Friend, professor of journalism, has an interest in technology and its ramifications on the media and society. She brings that interest both to teaching and to research.
Since joining the UC faculty in 1987, she has incorporated technology into classes, from instituting one of the first computer-assisted reporting courses in the country to creating a multi-media Web class in 2005.
Technology is also the focus of much of her research and professional activity. Online Journalism Ethics: Traditions and Transitions, a book on the new ethical problems facing Web journalists, was published by M.E. Sharpe in June 2007. The second edition of Contemporary Editing, first published by McGraw Hill in 2000, incorporates some of the promises and pitfalls of multimedia editing.
She also served on the Editorial Board of the first online ethics textbook Stand in 1998 and published Fruit of the Poisonous Tree: Journalistic Ethics and Voice-Mail Surveillance in the Journal of Mass Media Ethics in 2001, which examined the ethics of voice-mail surveillance and how new technology raises uncharted ethical challenges.
She won the Crisafulli Distinguished Teaching Award in 2007 and the Harold T. Clark Research Award for faculty research at Utica College in 2002.
Friend spent about 10 years as a full-time reporter and editor and continued to work as an editor and as a writing and design coach after leaving the newsroom.
Friend is an active member of the Association for Education in Journalism and Mass Communication and is past head of the Newspaper Division, the organization's largest group. She is also a member of the Online News Association and the Society for News Design.
Friend received a bachelor's degree from the University of Maryland in philosophy and a master's degree in communication from the S. I. Newhouse School of Syracuse University.
Public Relations
and Journalism

@Utica College

Admissions Events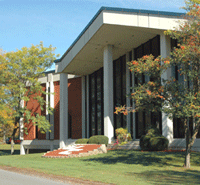 JOIN US ON CAMPUS:

EXPERIENCE UC

Meet students and faculty, tour campus, and join us for lunch.
Learn more / register


SATURDAY INFO SESSIONS
Q&A with staff followed by a campus tour.
Learn more / register
OPEN HOUSE
Learn more about programs, financial aid, student life, more.
Learn more / register
Upcoming events >
"I selected Utica College's PRJ program because of its strong reputation within the public relations community."
"I selected Utica College's PRJ program because of its strong reputation within the public relations community. The program has a solid concentration on case studies and 'real world' situations. The simulations provide a great starting point for students getting ready to enter the professional workplace."
Chris Bandura '99
Director of Media Relations
Buffalo Sabres hockey
Buffalo, NY
Full Quote
Share
|