Public Relations and Journalism
FACULTY




Kim B. Landon, M.A.
PT Development Officer
Phone: (315) 792-3093
Office: Ray Simon Convergence Center
B22 Hubbard Hall
Biography
---
Kim Landon, associate professor of journalism, worked as a reporter at several Upstate New York newspapers before joining Utica College in 1979. Since then, she has taught nearly every course in the Journalism curriculum, as well as many Topics in Journalism courses ranging from women war correspondents to documentary film. Her main interests are women journalists and First Amendment issues, the latter being central to her course in Censorship. In addition, she coordinates Utica College's Banned Book Read-In, which has been held every fall during national Banned Books Week since 1992. Landon's research has focused on how journalists make decisions about their careers, and also on women war correspondents. She has presented her research at national academic meetings and has published in several academic journals. She is a member of the Association for Education in Journalism and Mass Communication.
At Utica College, Landon has won the college's Distinguished Teaching Award, the Outstanding Faculty and the College Service Award awards from the Utica College Alumni Association, the Student Life Faculty Award, the Womyn's Resource Center Mentor Award, and the Outstanding Alumna Award from the Raymond Simon Institute. She served for many years as advisor to the college's student newspaper, the
Tangerine, and currently advises the John C. Behrens Chapter of the Society for Collegiate Journalists. Landon is a 1975 graduate of Utica College with a B.A.in Journalism and a 1985 graduate of Newhouse School of Public Communication at Syracuse University with an M.A. in Newspaper Journalism.

A native of Catskill, N.Y., she and her husband, David Simon, reside in Clinton, N.Y.

Public Relations
and Journalism

@Utica College

Admissions Events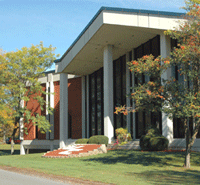 JOIN US ON CAMPUS:

EXPERIENCE UC

Meet students and faculty, tour campus, and join us for lunch.
Learn more / register


SATURDAY INFO SESSIONS
Q&A with staff followed by a campus tour.
Learn more / register
OPEN HOUSE
Learn more about programs, financial aid, student life, more.
Learn more / register
Upcoming events >
"I chose Utica's PR/J program because I wanted to learn the skills for my future career in a close-knit school community."
"I chose Utica's PR/J program because I wanted to learn the skills for my future career in a close-knit school community. UC gave me the basic skills I needed to get started on my career. And long after graduating, certain professors continue to help me grow through their advice, support, and sincere interest in seeing me succeed."
Angela Grande '05
Producer
NBC Universal
New York, NY
Full Quote
Share
|