Major in Foreign Language
Bachelor of Arts Degree • School of Arts and Sciences

Foreign Language Major
Program Details
The foreign language major enables students to combine the study of French or Spanish with a major related sequence of courses, resulting in the acquisition of vocabulary and cultural knowledge relevant to the major related area.
Students will develop an understanding of the language, grammar, literature and culture of their primary language, through both classroom study and a foreign studies experience. The Senior Research Project will combine the primary language with a Major Related Sequence such as Sociology or Human Rights Advocacy, acquiring the background knowledge and vocabulary in the primary language with which to successfully work in this field.
This major is designed to meet the needs of those students intending to work with a non-English speaking population, be it in business and management, education, social services, journalism, law, travel and tourism, and other fields which require language-qualified personnel. Furthermore, the knowledge of other languages is a positive attribute for those students who will pursue a graduate degree.
ACADEMIC REQUIREMENTS

(See also
General Education Core
)
Total credit hours required for degree: 120
Course
Credit Hours
Year
Taken
Core
34-55
Major Course Requirements
Primary Language 101 and 102 *
6
1
Primary Language 201 and 202 *
6
2
Culture/Civilization**
One of the following: FRE 347; SPA 347;
SPA 348



3



2,3,4
Conversation**
One of the following: SPA 227; FRE 237;
SPA 327; FRE 327



3



2,3,4
Literature**
One of the following: FRE 288; FRE 300;
FRE 388; SPA 388; SPA 300



3



2,3,4
Advanced Grammar or Composition**
One of the following: FRE 337; SPA 337


3


2,3,4
Electives at the 300- or 400-level. (If a topics
course, may be repeated if the topic is different.)


9


3,4
One course in translation, or an additional 300-
or 400-level elective


3


3,4
Language 490: Senior Research Project
6
4
30-42
Major-Related Course Requirements (Track 1 or Track 2)
TRACK 1: ANT/ENG 351 Language and Culture or SOC 252
3
3,4
TRACK 1: COM 325 Intercultural Communications or COM 341
3
3,4
TRACK 2: :Second Language 101,102
6
3,4
Major Related Sequence:

A sequence of courses at in another field or combination of
fields as guided by the advisor, designed to complement the
foreign language major. Content from these courses will be
integrated into the Senior Research Project.


Students who complete one of the following minors, or a
teacher certification area, or a minor in a language other than
the primary language, will be considered to have completed
this requirement: Anthropology, Economics, English, Film
Studies, Gender Studies, Geoscience, Gerontology,
Government, History, Human Rights Advocacy,
Management, Philosophy, Psychology, Sociology,
and Theater.
15-21
2,3,4
24-27
*It is anticipated that most incoming Foreign Language Majors will already have already completed the equivalent of Elementary I [101] and II [102] of their primary language, and possibly Intermediate I [201] and Intermediate II [202].

**Or comparable courses in the primary language as approved by the department.

---
Admissions Events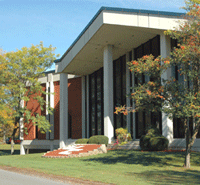 JOIN US ON CAMPUS:

EXPERIENCE UC

Meet students and faculty, tour campus, and join us for lunch.
Learn more / register


SATURDAY INFO SESSIONS
Q&A with staff followed by a campus tour.
Learn more / register
OPEN HOUSE
Learn more about programs, financial aid, student life, more.
Learn more / register
Upcoming events >