Major in Economic Crime Investigation
Criminal Justice - Economic Crime Investigation
Utica College's criminal justice-economic crime investigation major is the only academic program of its kind. It combines the study of criminal justice with that of accounting and computer science to provide future practitioners with an understanding of the evolving problems of business fraud and computer crime. As this is an area of increasing concern in today's technologically advanced society, students completing this innovative program earn a highly marketable degree.
Major course requirements of the criminal justice-economic crime investigation (CJ-ECI) program consist of a wide spectrum of criminal justice, economic crime, sociology, and law courses to provide enhanced skills in understanding and investigating economic and computer crimes.
This major offers two specialized concentrations. The concentration in financial investigation links the theory and practice of accounting to the detection of fraud and other related economic crimes. The concentration in computer security incorporates the fundamentals of programming as well as network and computer security.
Internships
Because the program emphasizes the merger of theory and practice, criminal justice-economic crime investigation students are required to complete a full-time internship. Internships and Cooperative Education positions are available in a variety of public agencies and corporations and are offered every semester under the direction of a faculty member. Interns perform entry-level work and are generally afforded the opportunity to experience all aspects of the agency or corporation that focuses on economic crime.
Sites include Americu Credit Union, Chase Bank, CTIA, Equitable, First Data Resources, The Hartford, MasterCard International, MBNA America, Metropolitan Property and Casualty, National Insurance Crime Bureau, OSO Group Ltd., National Fraud Center, SAIC, and the United States Secret Service.
ECI Learning Lab
Through generous donations from AT&T, Digital Equipment Corporation (DEC), IBM, and State Farm Companies Foundation, Utica College's economic crime investigation program has established a computer-assisted learning laboratory. Students gain hands-on experience through solving a series of case studies dealing with specific economic crimes, including credit card, cellular, and medical fraud. The analysis of data sets to determine if fraudulent activity is present and the subsequent policy decisions are a focus of other lab experiences.
Students in the Computer Security course are able to act as system administrators on a sub-system set up to give them an opportunity to establish and test security measures on a network. Additionally, students learn how to analyze computer evidence.
Career Opportunities
This degree offers extensive career opportunities to those students who have an interest in criminal justice, accounting, and computer science. Federal law enforcement and regulatory agencies, whose jurisdictions in specific economic crimes are rapidly expanding, are very interested in graduates of this program.
All corporations with a strong interest in protecting proprietary information, computer security, and the prevention of a variety of internal and external threats find that Utica College graduates are excellent entry-level employees. Graduates of the program presently are employed by Americu Credit Union, AT&T Universal Card, the Cellular Telecommunications Industry Association (CTIA), Chase Bank, Equitable, First Data Resources, Healthcare Underwriters Mutual Insurance Company, Keane Inc., MBNA America, MasterCard International, the National Computer Security Association, the New Jersey Attorney General's Office, the New York State Police, and the United States Secret Service, among others.
Economic Crime Investigation Institute
Formed in 1988, the Economic Crime Institute (ECI) is a unique organization of professionals and academics that provides thought leadership on economic crime and cybersecurity issues faced by business and government. The Institute is a "center of excellence" at Utica College that provides and supports leading-edge thinking through educational programs, policy guidance and solutions, research, and publications. (For more information, see
www.ecii.edu
).
The role of the Institute's directors is to assist the faculty in the development of this unique and innovative curriculum and to establish internship and Cooperative Education experiences for students in the program. The board members, who are experts in insurance fraud, credit card fraud, computer security and computer crime, financial investigations, and internal and corporate security, also are committed to sponsoring seminars, lectures, and an annual conference. These programs are open to students in the program and professionals in the field.
UC Graduates
"The ECI program provided a solid education in the fast-growing field of white collar crime/economic fraud investigation. The knowledge, skills, and hands-on training are the basics (plus) required by employers. Enrolling in the ECI program was one of the best decisions I've made. It opened the door to my employment with Equitable. I couldn't be more satisfied with my experience and education at Utica College."
--Thomas Tarkowski '89, CFE, CLU Equitable, New York, NY
Further Information
Contact Donald Rebovich, Program Director, at
drebovich@utica.edu
.
---
Admissions Events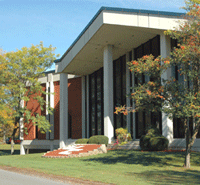 JOIN US ON CAMPUS:

EXPERIENCE UC

Meet students and faculty, tour campus, and join us for lunch.
Learn more / register


SATURDAY INFO SESSIONS
Q&A with staff followed by a campus tour.
Learn more / register
OPEN HOUSE
Learn more about programs, financial aid, student life, more.
Learn more / register
Upcoming events >
"The master's program in economic crime management provides me with the tools to manage a wide variety of initiatives in fraud management. In addition, taking classes online gives me the flexibility to work around my schedule."
"The master's program in economic crime management provides me with the tools to manage a wide variety of initiatives in fraud management. In addition, taking classes online gives me the flexibility to work around my schedule."
~
Joe Asaro
'04, G'08
Senior Risk Manager
Bank of America
Charlotte, NC