Major in Criminal Justice
Criminal Justice
Criminal Justice Home
Utica College's criminal justice major is an interdisciplinary program which excels in addressing the needs of contemporary practitioners, providing firm foundations in criminal justice, law, sociology, psychology, political science, forensics, and communication. A theory-into-practice formula is applied to the curriculum, which allows students increasing involvement in theory, research, and practice culminating in the capstone course, a semester-long internship. The program is further strengthened by incorporating an international component in its curriculum, important in the preparation of future leaders.

Special Opportunities
UC's criminal justice internship program enjoys a national reputation in both the academic and professional communities. Internship opportunities are semester-long and full time. The student fully participates in the operations of CJ agencies and related organizations, and CJ faculty members visit students on site during the internship, regardless of the distance from campus. Internship opportunities exist nationwide in both public and private sectors and, depending on scholastic average, international sites may be approved.
Because of their reputation for being well trained in research and analytical methods, and in computer applications, the College's CJ majors have been recruited by local and state government agencies to undertake serious research projects. Under faculty direction, these may become class projects, individual projects, or independent studies, all of which contribute to students' learning and reinforce the theory-into-practice curriculum design.
Facilities
Students in the criminal justice program have access to state-of-the-art forensic research technologies in the Economic Crime, Justice Studies, and Cybersecurity building on the UC campus.
Special CJ program facilities include a dedicated computer cluster established as a major component of the criminal justice-economic crime investigation program. These computers are utilized to train all CJ students in the use of computers as investigative research tools. A federal funded computer forensic lab enables the faculty and students to engage in the study of cutting edge crimes and their control. Another unique resource exists in the continuing arrangement established with the nearby New York State Supreme Court Law Library. Here CJ and pre-law students are trained in legal research methods.
Faculty
The CJ faculty manifests the interdisciplinary nature of the curriculum. With a focus on teaching undergraduates the faculty are selected based on credentials, professional experience, and prior records of excellence in teaching. In addition, faculty members are able to draw upon their previous CJ experience and relationships established with agencies in the CJ field to help students with career counseling and to establish internships that provide students with hands-on experience.
Career Options
Opportunities exist in federal, state, and local police agencies and as investigators on the staff of district attorneys or public defenders. UC graduates work for adult and juvenile probation services, in delinquency prevention programs, as counselors for drug and alcohol programs, and in alternatives to incarceration-diversion programs.
UC graduates find employment in juvenile and adult corrections and parole services, in court administration, and in court-directed mediation services. From each graduating class, several students enter law or graduate school, while a significant number enter the CJ field for experience and return to graduate or professional school after a few years. A number of private companies have employed CJ graduates as investigators or analysts.
Further Information
Contact William Virkler, M.B.A., Chair of Criminal Justice, at
wvirkle@utica.edu
.
---
Admissions Events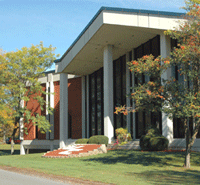 JOIN US ON CAMPUS:

EXPERIENCE UC

Meet students and faculty, tour campus, and join us for lunch.
Learn more / register


SATURDAY INFO SESSIONS
Q&A with staff followed by a campus tour.
Learn more / register
OPEN HOUSE
Learn more about programs, financial aid, student life, more.
Learn more / register
Upcoming events >