FILM@UC
now playing
|
fall 2017

All showings Thursday night at 7:00 p.m. in Macfarlane Auditorium. Admission is free.
August 31
The Red Turtle
[2016, Netherlands/Japan, dir. Michael Dudok de Wit, 80 mins.]

A man swims alone to a remote island inhabited only by birds and turtles until he and a woman, magically born from nature's erosion, start a family and together share an Edenic life in this tender, intimate – and wordless – animated fable.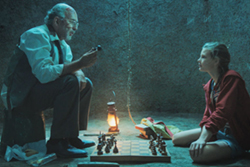 September 7
American Fable
[2016, USA, dir. Anne Hamilton, 96 mins.]

A dark, dreamlike mystery unfolds on the family farm of an imaginative eleven-year-old girl when she discovers a wealthy, well-dressed man being held captive in her family's silo.




September 14
Yellowing
[2016, Hong Kong, dir. Tze Woon Chan, 129 mins.]

This engrossing and dramatic documentary, shot over sixty-seven days during the 2014 Umbrella Movement, portrays the thousands of citizens led by idealistic students who defied their government and occupied the streets of Hong Kong to demand democracy.



September 21
My Buddha is Punk
[2015, Myanmar, dir. Andreas Hartmann, 68 mins.]

A young Burmese musician and his bandmates struggle to nurture a punk music scene in Myanmar while denouncing the ongoing persecution of ethnic minorities in his country and promoting a unique punk Buddhist philosophy that rejects religious dictates and political doctrine.



September 28
The Suffering of Ninko
[2016, Japan, dir. Norihiro Niwatsukino, 70 mins.]

A young and virtuous Buddhist monk who finds himself irresistibly attractive must leave his temple and become a wandering pilgrim to overcome his demons in this tongue-in-cheek festival cult favorite



October 5
The Brand New Testament
[2015, Belgium, dir. Jaco Van Dormael, 114 mins.]

God has grown cynical and petty, spending all day in his pajamas in his present-day Brussels apartment, until his strong-willed daughter decides to make up for the mess he's made of humanity in this dark, witty, and eccentric comedy.




October 12
Chuck
[2017, USA, dir. Philippe Falardeau, 98 mins.]

A story of resilience and redemption about the real-life New Jersey liquor salesman and heavyweight boxer Chuck Wepner, who went 15 rounds with Muhammed Ali and whose life became the inspiration for the film Rocky.




October 19
Dolores
[2017, USA, dir. Peter Bratt, 95 mins.]

An intimate and inspiring documentary about Dolores Huerta, co-founder with Cesar Chavez of the country's first farm workers union and among the most important, yet least known, feminists and racial and social justice activists in American history.