FILM@UC
now playing
|
fall 2016

All showings Thursday night at 7:00 p.m. in Macfarlane Auditorium. Admission is free.
September 1
Viva
[Ireland, 2015, dir. Paddy Breathnach, 100 mins.]

Jesus, a young hairdresser working at a Havana nightclub that showcases drag performers, clashes with his father over the dream to take the stage himself.



September 8
White God
[2015, Hungary, dir. Kornél Mundruczó , 121 mins.]

An ambitious and jarring parable about 13-year-old Lili who, after watching her father abandon her beloved dog because The State has deemed its mixed-breed heritage to be "unfit," searches for her lost pet while all of the unwanted and unloved dogs rise up against their former masters.



September 15
Requiem for the American Dream
[2015, USA, dirs. Peter Hutchison & Kelly Nyks, 73 mins.]

A definitive and sobering, yet accessible, encapsulation of the influential intellectual Noam Chomsky's analysis of how concentrated wealth and power have conspired to undermine the American Dream.




September 22
Chi-Raq
[2015, USA, dir. Spike Lee, 127 mins.]

The girlfriend of a gang leader convinces other women to withhold sex from their men until they agree to end the cycle of senseless violence in Chicago's south side in Spike Lee's pointed modern day adaptation of the ancient Greek play Lysistrata.



September 29
A War
[2015, Denmark, dir. Tobias Lindholm, 105 mins.]

While his wife struggles to hold their family together, a Danish commander faces a courtroom trial over a judgment call he made during a routine mission in Afghanistan that led to the deaths of eleven civilians.



October 6
Neither Heaven Nor Earth
[2015, France, dir. Clément Cognitore, 104 mins.]

A French army commander begins to lose the loyalty of his company, as well as his sanity, when soldiers start mysteriously disappearing one by one from their posts on Afghanistan's Wakhan Front.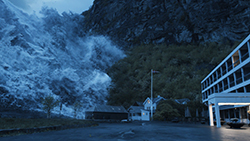 October 13
The Wave
[2015, Norway, dir. Roar Uthaug, 105 mins.]

A geologist and his family fight for survival in the small tourist town of Geiranger when a rockslide into the fjord spawns a massive tsunami in this smart new take on the natural disaster film.


October 20
This Changes Everything
[2015, USA, dir. Avi Lewis, 89 mins.]

Inspired by Naomi Klein's international bestselling call to arms, this powerful and unsettling documentary crosses five continents to portray seven communities on the front lines of climate change in the hope that we can seize this existential crisis to transform our economic system into something radically better.