Major in Communication Arts
Communication Arts
The major in communication arts enables students to master a variety of communication skills required for both success in a wide range of exciting careers and for active, responsible citizenship. Drawing upon important contributions from the arts, humanities, and social sciences, this liberal arts approach to communication emphasizes personal exploration and growth along with career preparation.
Students may select course work in oral presentation and performance, persuasion, interpersonal and intercultural communication, group and organizational communication, broadcasting and media, film studies, and theatre. The unifying theme is an exploration of how our identities, relationships, organizations, and society are influenced by the content, style, and media of communication.
The liberal arts approach to communication study has two related components. One involves the refinement of communication and performance competencies. The other focuses on developing an understanding of a range of important communication issues and the ways communication variables influence our identities, relationships, organizations, and society. Students need to be well prepared to analyze their options and the results that each is likely to produce in order to make the best decision about how to apply their communication skills in specific situations.
Special Opportunities
Communication arts majors are strongly encouraged to gain off-campus professional experience through internships and Cooperative Education positions. Students have been placed in government, media, entertainment, business, and human service internships.
WPNR-FM
, the Utica College radio station, is a student-run, fully operational, non-commercial, educational facility. The station's two studios and administrative offices are located on the second floor of Strebel Student Center. WPNR-FM 90.7 broadcasts to the Greater Utica area on a regular schedule during the academic year. Students serve as managers, directors, and disc jockeys. Programming is varied and includes music, sports, and special interest shows. UC students can apply for all positions on the staff.
FILM@UC
, Utica College's campus film series, presents an exceptionally diverse selection of critically acclaimed independent, foreign language, and classic films throughout the semester. All films are screened in Macfarlane Auditorium (DePerno Hall) and are free of charge. Students, faculty, staff, and the public are cordially invited.


Career Opportunities
Communication skills are in high demand in myriad occupations and our graduates have pursued a wide range of careers, including television broadcaster, radio personality, sales representative, college professor, special events organizer, regulatory analyst, and higher education administrator.
The major also provides students with the preparation needed for graduate study in the field.
Faculty
The faculty members in the communication arts department bring talent and energy to the classroom. Two of the three full-time faculty have been selected by students and colleagues to receive the College's Distinguished Teaching Award. Faculty members are active in scholarly research and service to the College and community.
Dr. Carol Downing teaches and researches in the area of rhetorical theory and instructs the oral performance branch of communication arts: public speaking, oral interpretation, voice and diction, and argumentation.
Dr. David Habbel specializes in interpersonal, political, and organizational communication. Dr. Habbel has presented papers at national and international conferences.
Dr. Jeff Miller is a Fulbright Scholar (2007, Taiwan) who specializes in the media and democracy, visual communication, and semiology. Dr. Miller also teaches interpersonal communication and public speaking, and has served as the director of
FILM@UC
for over a decade. He has presented his research at regional, national, and international conferences, most recently
Social Work Social Development 2012
in Stockholm, Sweden. In 2007 he was a visiting professor at Taiwan's National Chengchi University.
Successful Graduates
Shanelle Gabriel '06 is a singer, actor, and spoken word artist. She has performed at a number of venues and colleges around the country and is most commonly recognized for both opening and being featured on Season 6 of HBO's Def Poetry Jam. She recorded a nationally-televised promo for the 2007 NFL draft as well as her first album, "Start Something," which showcases her love of spoken word poetry and her soulful, sultry singing.
Cassandra Ingham '03 is School Staff Specialist within the Home Office Loss Control and Risk Management Department at the Utica National Insurance Group, where she has worked for more than 15 years. In 2004, she completed the research-based Olweus Bullying Prevention Program Training of Trainers and now trains and consults with Bullying Prevention Program Coordinating Committees in schools. She earned an M.S. in Economic Crime Management from Utica College in 2006.
Chad Beckim '95 is an actor, playwright, and the co-founder and co-artistic director of the NYC-based theatre company Partial Comfort Productions, which the New York Times praised as "the little company that could... [having] achieved what hundreds of people come to New York every year to do: make a mark on the city's fiercely competitive theatre world." He is the author of several well-received plays including
Lights Rise on Grace
,
The Main(e) Play
,
... a matter of choice,
and
'nami
, and is a teaching artist at both the New Victory Theater and the Stella Adler Conservatory. He has also appeared in commercials, music videos, and a recurring role on the daytime drama All My Children.
Jean Codianni '92 has served as segment producer of several documentaries, including
John Beluschi: Funny You Should Ask
,
Gene Roddenberry: Star Trek and Beyond
, and
Roy Rogers: American Legend
, for the Arts and Entertainment Network (A&E). She also worked as second assistant director on the 1995 film, Party.
"As I am always representing MDA locally, whether it is to a local business or a national sponsor, I have to be careful of how I present myself and my employer. This program has helped me do this successfully and earned me quite a bit of praise on my public speaking appearances. Thanks UC."
--
Tina Marie Anemone '92 Program Coordinator, Muscular Dystrophy Association, Tarrytown, NY


"My current position requires a great deal of public speaking. The courses taken in college provided a foundation to build from. As communication is one of the most important variables in business, the ability to speak effectively acts to your benefit each time you come into contact with others. The ability to persuade others is a powerful tool in any setting."
--
Wester E. Miga '76 Region Operations Manager/Sales Management, General Mills, Horsham, PA


"This major has been invaluable to me in terms of personal growth and as an area of study which gave me a keen awareness in any area of communication. The greatest help was in personal confidence. The communications courses and the acting gave me a great amount of esteem as well as knowledge."
--
Dr. Sylvia Cara-Monica '73 Semi-retired Literature Professor, University of Nevada, Las Vegas


Further Information
Contact Dr. Carol Downing, Director, Communication.
cdowning@utica.edu
---
Admissions Events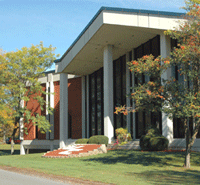 JOIN US ON CAMPUS:

EXPERIENCE UC

Meet students and faculty, tour campus, and join us for lunch.
Learn more / register


SATURDAY INFO SESSIONS
Q&A with staff followed by a campus tour.
Learn more / register
OPEN HOUSE
Learn more about programs, financial aid, student life, more.
Learn more / register
Upcoming events >
"Whether I am representing MDA to a local business or a national sponsor, I have to be careful of how I present myself and my employer. This program has helped me do this successfully and earned me quite a bit of praise on my public speaking appearances. Thanks UC."
"Whether I am representing MDA to a local business or a national sponsor, I have to be careful of how I present myself and my employer. This program has helped me do this successfully and earned me quite a bit of praise on my public speaking appearances. Thanks UC."
~
Tina Marie Anemone
'92
Program Coordinator
Muscular Dystrophy Association