Business Economics - Program Student Learning Goals
Graduates from this program will be able to…..
1. demonstrate analytical and critical thinking skills.

2. demonstrate effective oral communications skills.

3. demonstrate effective written communications skills.

4. demonstrate quantitative skills.

5. demonstrate an awareness of the global business environment.

6. demonstrate competence in the use of technology.
7. identify and analyze legal and ethical issues in business.
8. demonstrate content knowledge in the area of microeconomics.

9. demonstrate content knowledge in the area of macroeconomics.

10. demonstrate fundamental knowledge in business areas.

11. complete a research project.
Updated 2012-13
Admissions Events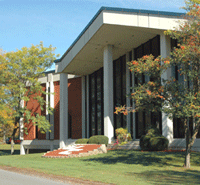 JOIN US ON CAMPUS:

SATURDAY INFO SESSIONS
Q&A with staff followed by a campus tour.
OPEN HOUSE
Learn more about programs, financial aid, student life, more.
Upcoming events >

Share
|