Academics at Utica College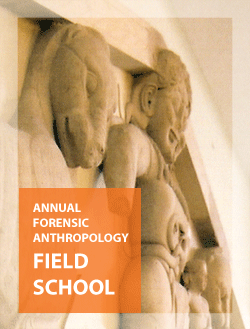 Study Abroad

Forensic Anthropology Field School

Albania, Greece, and Romania

Dates:
May 16 - June 9, 2017
Profiles of Course Directors
Thomas A. Crist, Ph.D.
Dr. Crist is Professor of Harold T. Clark, Jr. of Anthropology and Anatomy at Utica College in Utica, NY.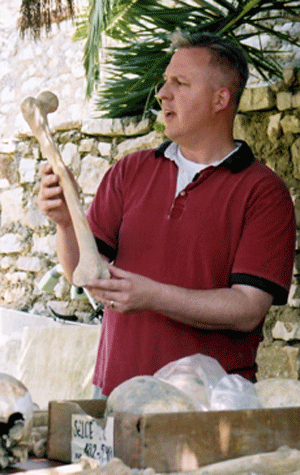 Previously Director of Archaeological Services at Kise Straw & Kolodner Inc. in Philadelphia and now a consultant to URS Corporation, Dr. Crist has served since 1990 as the Forensic Anthropologist for the Philadelphia Medical Examiner's Office. He is a member of the U.S. Public Health Service's Disaster Mortuary Operational Response Team (DMORT) and served two deployments assisting in the recovery and identification of victims from the World Trade Center attacks in 2001. Since 1992, Dr. Crist has been an Adjunct Professor at the School of Dental Medicine at the University of Pennsylvania, where he co-teaches an annual short course in Forensic Dentistry and Anthropology every spring. In 1994, Dr. Crist was one of three co-founders of the American Academy of Forensic Science's Young Forensic Scientists Forum and served as the group's first secretary.

Dr. Crist earned his Doctorate in Biological Anthropology from Temple University in 1998. He also holds a Master of Arts in Anthropology/Public Service Archaeology from the University of South Carolina (1990) and a Bachelor's degree in Archaeology and Classics from Rutgers College (1987). Dr. Crist has directed over 20 historical cemetery excavations throughout the United States, including in Philadelphia the Tenth Street First African Baptist Church Cemetery, Revolutionary War burials at Washington Square, the Blockley Almshouse Burial Ground, the Second Presbyterian Church Cemetery, and the first Philadelphia Almshouse Burial Ground. He also directed excavations and has analyzed human remains from Chambers Street in Lower Manhattan; the Spring Street Presbyterian Church Cemetery in Greenwich Village; the Wampanoag Burial Ground at Martha's Vineyard; Historical Cemeteries 86 and 88 in Johnston, Rhode Island; the Portsmouth African-American Burial Ground in New Hampshire; and the earliest French colonial burial ground discovered to date in the New World at St. Croix Island, Maine. The Discovery Health Channel's series Skeleton Stories featured two of Dr. Crist's projects in separate episodes that premiered in the fall of 2006.

Dr. Crist has been accepted as an expert witness and testified in hearings and criminal trials in the Criminal Court and Orphans' Court of Philadelphia as well the Supreme Judicial and Superior Courts in York County, Maine. He is the author of more than 100 professional publications and cultural resources reports including topics in forensic anthropology; African-American bioarchaeology; paleopathology; historical urban archaeology; public involvement; and educational outreach efforts, especially among minority descendant communities.
John H. Johnsen, Ph.D.

Dr. Johnsen is Provost and Vice President for Academic Affairs at Utica College, where he has been a member of the faculty since 1977.
A specialist in medical and ecological anthropology, cross-cultural healing, the cultures of Eastern Europe, and the Native American cultures of New York, Dr. Johnsen's most recent publications have been on societal responses to the restoration of wolves to the Adirondack Park in upstate New York, and on the efforts by the Oneida Indians to preserve their language. He is one of the developers of Utica College's Young Scholars Liberty Partnerships Program with the Utica School District and serves as President of its Advisory Board.
Dr. Johnsen received his Bachelor's and Master of Arts degrees in Anthropology from Case Western Reserve University, where he studied with renowned paleoanthropologist Milford H. Wolpoff. He earned his Doctorate in Anthropology at the State University of New York at Buffalo in 1980. His dissertation, "Doctrinal Diversity in Two Religious Organizations," revealed profound doctrinal heterogeneity among congregants masked by various social devices in a hierarchical Lutheran church structure when compared to the substantially less diversity presented by a more egalitarian Quaker meeting where discourse and debate is emphasized and valued.
Among Dr. Johnsen's publications is an article in Social Science and Medicine titled "Toward a Critical Medical Anthropology" which he co-authored with Hans Baer and Merrill Singer in 1986. This article is now recognized as a seminal piece in the development of a critical and politically-oriented theoretical orientation in medical anthropology.
In 2000, Dr. Johnsen spent the spring semester as an Invited Scholar at the Institute of American Studies at Jagiellonian University in Krakow, Poland, an experience that resulted in several articles on aspects of Native American history for a Polish academic audience.
Drs. Crist and Johnsen offered their first anthropology field school in Albania in 2004. Since then, over 50 students from the United States, Canada, South Korea, Albania, and Spain have participated in their annual expedition, which includes components in Greece and Romania. In 2007, Drs. Crist and Johnsen presented "Introducing Forensic Anthropology to Albania Using the Problem-Based Learning Model" at the annual conferences of both the American Academy of Forensic Sciences and the Society for Cross-Cultural Research.
Michael D. Washburn, M.A.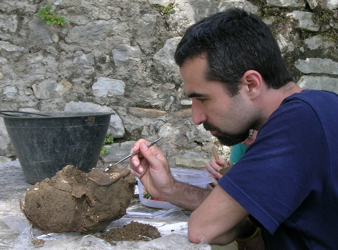 Michael D. Washburn serves as Instructor for Utica College's annual Forensic Anthropology Field School in Albania, Greece, and Romania. He holds a bachelor's degree in Anthropology and a Master of Arts in Ancient History from Southern Connecticut State University.
A highly experienced field archaeologist, Mr. Washburn participated in SCSU's Tanzanian field school in Laetoli in 2003 as well as Utica College's field school in 2007. He was subsequently among the few archaeologists chosen to work for the American School of Classical Studies in Athens, Greece, excavating the Athenian Agora during the summers of 2009-2011. He has also excavated at Butrint with archaeological teams from the Butrint Foundation and the University of Notre Dame.
An expert in Greek and Roman studies, Mr. Washburn's thesis research focused on the cult of Dionysos, and how apprehension over its rituals, myths and historical practices resulted in a rare crackdown of religious freedom by the Roman Senate.
Mr. Washburn has taught in Utica College's Forensic Anthropology Field School every year since 2009. His lectures emphasize the Roman period at Butrint and address the shifting intersections between culture and religion in the ancient Mediterranean and Near East. Mr. Washburn is especially interested in how these socio-cultural shifts continue to shape the modern Balkans and, by drawing distinctions between the "community" and the "religion" of Islam, how Albania's turbulent history and adaptive culture have led it to become a nation able to foster religious tolerance despite a population that is overwhelmingly identified as Muslim.
Top

Back