Major in Therapeutic Recreation
Bachelor of Science Degree • School of Health Professions
and Education
Therapeutic Recreation Major

Program Details

Overview
Therapeutic recreation at Utica College is one of a very few nation-wide programs designed specifically to educate students to be therapeutic recreation specialists. The curriculum combines liberal arts components with professional preparation courses and "hands-on" experiences. The courses have been uniquely designed to provide every student with in-depth knowledge of technical and theoretical skills essential for entry level professional competence.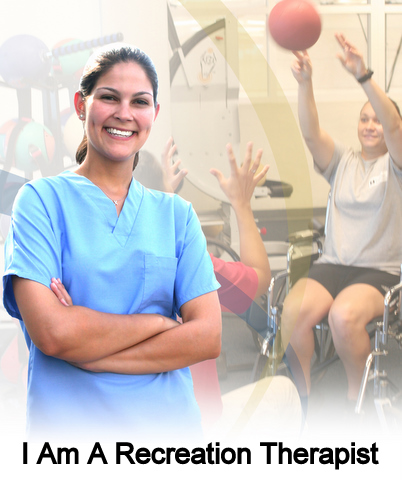 The Profession
Therapeutic recreation is a human service profession that focuses on providing care to individuals who have cognitive, physical, psychological, or social needs. The specialist possesses recreational activity and facilitation skills that he or she utilizes to bring about a change in the individual. The therapist will employ skills based upon consumer needs and the service provided will be functional intervention, leisure education, and/or recreation participation. Therapeutic recreation graduates work in rehabilitation centers, psychiatric hospitals, long-term care facilities, penal institutions, senior centers, drug and alcohol rehabilitation facilities, nursing homes, community recreation, children and youth centers, and day treatment centers.
Functional intervention uses recreational activities to habilitate or rehabilitate physical,

intellectual,

and emotional skills.
Leisure education uses appropriate recreational and educational activities to acquire leisure participation skills, knowledge, and attitudes that facilitate independent, satisfying leisure experiences.
Recreation participation uses activities to promote health, growth, development, and independence through self-rewarding leisure pursuits.
Special Opportunities

Developed in 1981, the therapeutic recreation major at Utica College is one of a very few programs in the nation that is strictly designed to educate and graduate recreation therapists with a bachelor of science degree in therapeutic recreation. The program also is unique in that it is housed in the School of Health Professions and Education, which reflects the clinical-medical aspects of the major as well as the philosophical recreation foundation.
Curriculum
In addition to having extensive course work in theory, students are provided a number of hands-on experiences while they are at UC. As part of their course requirements, students participate in
fieldwork
in area agencies, conduct projects, and are involved in organizing numerous interventions for various populations.
Therapeutic recreation students are required to complete one 525-600 hour internship. Students are encouraged to seek internship experiences throughout the United States. In past years, students have been placed in facilities in Colorado, Minnesota, Florida, and throughout the Northeast. Internship placements must meet certain standards regarding staff, competencies, and qualifications.
For placement opportunities, please contact the program director.
Total credit hours required for degree: 124
SPECIAL REQUIREMENTS
The student in therapeutic recreation is required to achieve a minimum of C in each major course, a C average in major-related courses except BIO 101 and BIO 102, and at least a B in the internship experience. Students must comply with the internship site rules and regulations regarding physical examinations and immunizations. Malpractice insurance is required for an internship course.
ACADEMIC REQUIREMENTS
(See also
General Education Core
)
Course
Credit Hours
Year Taken
Core
34-55
Major Course Requirements
Therapeutic Recreation 101
Introduction to Therapeutic Recreation
3
1
Therapeutic Recreation 106
History and Philosophy of Recreation
3
1
Therapeutic Recreation 201
Outdoor Recreational Pursuits
3
2
Therapeutic Recreation 256
Leadership, Analysis, and Modification of TR Interventions
4
2
Therapeutic Recreation 302
Leisure Counseling: Theory and Practice
3
3,4
Therapeutic Recreation 315
Leisure, Health, and Wellness
3
3,4
Therapeutic Recreation 323
Therapeutic Recreation & Medical Conditions
3
3,4
Therapeutic Recreation 352
Assessment and Documentation
3
3,4
Therapeutic Recreation 403
Program Design and Evaluation
3
4
Therapeutic Recreation 406
Advancement of the TR Profession
3
4
Therapeutic Recreation 413
Advanced TR Processes and Techniques
3
4
Therapeutic Recreation 469
Internship and Exam Preparation
1
4
Therapeutic Recreation 470
Internship in Therapeutic Recreation
12
4
47
Major-Related Requirements
(*Some of the following may be used to satisfy core)
Biology 101,102*
Human Anatomy and Physiology I & II
8
1,2
Psychology 101*
Introduction to Psychology
3
1

Psychology/Sociology 211*
OR
Mathematics 112*

Statistics in the Behavioral Sciences

Basic Statistics



3



1
Health Studies 245
OR
Psychology 223
Human Development Across the
Life Span
3
1,2,3
Health Studies 445
Clinical Research
3
4
Psychology 237
Group Dynamics
3
2,3,4
Psychology 361
Abnormal Psychology
3
3
26
Suggested Minors
Psychology
21
Gerontology
15
Communications Arts
18
Electives
The student must complete sufficient elective courses to earn at least the minimum credit hours required for this degree, and at least 60 credit hours of the 124 required must be in the liberal arts and sciences.
* Students wishing information about the therapeutic recreation retention policy should consult with their academic adviser.