Major in Psychology
Major in Psychology
School of Arts and Sciences
(Bachelor of Arts and Bachelor of Science Degree)

The psychology major at Utica College has a strong research emphasis as well as numerous opportunities for students to gain field experience. Graduates of the program are well qualified for the rigors of graduate education or for employment in the human service sector. All of the traditional subdisciplines of psychology are taught, including developmental, social, learning/cognitive, biopsychology, clinical/counseling, and experimental methodology and analysis.
Special Opportunities
Students, particularly those planning on attending graduate school, are urged to assist faculty members with their research and to plan and implement their own research. Psychology students participate in the College-wide undergraduate research program and are encouraged to submit their work to journals and professional conferences.
Several of the courses require field-work (e.g., Adolescence, Infancy and Childhood). Practicum placements and Cooperative Education placements are available and encouraged. For students intending employment with the B.A. degree, these placements are most useful in becoming known in the human service network, building a résumé, and securing letters of reference.
Facilities
Students are encouraged and expected to become proficient in data analysis on computers.
1. The Judson Memorial Psychology Center has statistical and stiumuli software on all computers.
2. An animal behavior laboratories are located in Gordon Science Center for research on behavior and visual perception.
3. A child development laboratory with a one-way mirrored observation room is conveniently located near the faculty offices and laboratory space.
Faculty

The psychology faculty prides itself on the individual attention its students receive both in and outside the classroom.
To learn more about our distinguished faculty, click here.
Career Opportunities
Graduates with a B.A. in psychology from Utica College have found employment in social service agencies, mental hospitals, rape crisis centers, battered women's shelters, agencies serving the mentally retarded and developmentally disabled, group homes for troubled adolescents, and alcohol and substance abuse programs as well as in the field of business management.
While many UC students go on to graduate school in psychology, others pursue a master's degree in social work and degrees in law, business, special education, and medicine.
UC Graduates
Scott Johnson '87 received a master's degree in developmental psychology from Harvard University and a Ph.D. from Cornell University.
Andria Delisle-Heath '86
is executive director of the American Red Cross, Mohawk Valley Chapter, and the former director of Rape Crisis and Domestic Violence Services for the YWCA in Utica. "My experiences with the UC psychology department are what ignited the spark of activism within me to do my part in addressing social problems in our community. The experiences gained at UC are what made me realize that I cannot just live with the status quo."
William Mullen '91
, who received a master's degree in social work in 1996, is a social worker for Hospice: "The psychology program at UC offered me a chance to challenge my abilities and develop and fine-tune the skills that I have transferred to my current occupation."
Lance Kriegsfeld '92
received a master's degree in experimental psychology from Villanova University and is pursuing a Ph.D. in biopsychology at Johns Hopkins University. His area of specialty is behavioral neuroendocrinology: "I didn't realize it back then, but Utica College provided me with a strong foundation in general psychology... I think I would have been just as prepared to go to a clinical, social, or developmental program as I was for a program in experimental psychology. I have felt confident that my undergraduate training was far more than adequate while competing with other graduate students from a wide range of undergraduate schools."
Miriam Carrillo '95
became the assistant coordinator of New Horizons, a privately funded transitional living program for young women aged 16-21, upon graduation: "The field placements through UC provided me with the important experiences that helped me get my job and be competent at it."
Gina Ashmore '02
- "Utica College was the foundation for my present success in graduate school, but it is my memories from Utica College that I will cherish for a lifetime."
---
Facilities
UC's psychology department offers excellent facilities for research and discovery.
[Click here for full list]
Admissions Events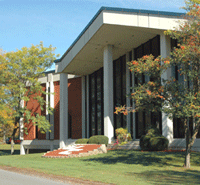 JOIN US ON CAMPUS:

EXPERIENCE UC

Meet students and faculty, tour campus, and join us for lunch.
Learn more / register


SATURDAY INFO SESSIONS
Q&A with staff followed by a campus tour.
Learn more / register
OPEN HOUSE
Learn more about programs, financial aid, student life, more.
Learn more / register
Upcoming events >
"The psychology program at UC offered me a chance to challenge my abilities and develop and fine-tune the skills that I have transferred to my current occupation."
"The psychology program at UC offered me a chance to challenge my abilities and develop and fine-tune the skills that I have transferred to my current occupation."
~
William Mullen
'91
Social Worker
Hospice