Major in Geoscience
Bachelor of Arts / Bachelor of Arts Degree • School of Arts and Sciences

Geoscience Major
Program Details

The Geoscience program offers two degree options:
The
bachelor of science
option is designed to prepare students to work in applied earth and environmental science or pursue graduate studies in geoscience or related disciplines. A capstone experience such as a field course, directed research, or internship will be required of students receiving the B.S. to integrate liberal and professional study.
The
bachelor of arts
option is designed to provide substantial breadth in science preparation by also including coursework in biology, environmental issues, and astronomy, allowing students greater flexibility in tailoring the degree to meet their needs and interests.
Facilities and location

The Utica College campus offers excellent facilities and resources for the study of geoscience. Recent NASA and NSF grants have supported the installation of additional advanced technology and instrumentation (see below).
The proximity of Utica College to the Adirondack and Catskill Mountains, Mohawk Valley, Utica Marsh, and Great Lakes and Finger Lakes makes its geographic location ideal to provide ample learning opportunities vital to advanced learning in geoscience.
Technology and Instrumentation

Housed in UC's Gordon Science Center, the Geology Department equipment includes:
sieves,
a Ro-Tap shaker,
hydrometers,
a current meter, and
microscopes
...for sedimentological analysis;
rock cutting and thin-sectioning equipment and microscopes for petrographic analysis;
a gravimeter and a collection of local- to continental-scale topographic and geologic maps and aerial photographs for structural geologic studies.
The Department maintains extensive fossil and mineral collections that include numerous specimens from the local area and the Adirondack Mountains.
A $1.7 million grant from NASA to UC was used to update and expand the college's science teaching and research resources. From this the geology department added instrumentation to support coursework and faculty and student research in paleolimnology, paleoceanography and paleoclimatology; including
sediment coring equipment and a small inflatable raft for lake and wetland sampling and monitoring,
a YSI in-situ multisensor water quality probe,
an integrated suspended sediment sampler and bottom sediment grab sampler,
a Malvern automated sediment grain size analyzer,
Bartington whole-core and discrete-sample magnetic susceptibility meter,
Ortec gamma detection system for radiometric dating of sediment cores, and
ArcGIS geographic information systems (GIS) software.
A grant from the National Science Foundation to a Geology Department faculty member enabled purchase of a large-format plotter. And, reflecting the College's commitment to providing opportunities to work hands-on with modern technology, UC recently provided the Geology Department funds to purchase new geophysical equipment, including instrumentation for seismic profiling.

Total credit hours required for degree: 120 (BA), 128 (BS)
ACADEMIC REQUIREMENTS
(See also
General Education Core
)
Course
Credit Hours
Year Taken
Core
34-55
Major Course Requirements
Foundations of Geoscience
Geology 115
Elementary Oceanography
3
1,2
Geology 225
Physical Geology1
4
1,2
Geology 226
Historical Geology
4
1,2
Geology 325
Mineralogy
4
2,3
Geology 373
Sedimentology and Stratigraphy
4
3,4
Geology 398
Structural Geology and Tectonics
4
3,4
Geology 410
Geoscience Seminar (taken twice)
1x2
3,4
One of the following:
Geology 313
Introduction to Paleobiology
4
2,3
Geology 323
Hydrology and Society
4
2,3
Geology 333
Weather and Climate

4

3,4
29
Major-Related Course Requirements
Chemistry 211
General Chemistry I
4
1,2
Mathematics 112
Basic Statistics
3
1,2
Physics 151 or 261
General Physics I or Physics I2
4
2,3
11
Total Credits:
40
Additional Course Requirements
B.S. in Geoscience
Chemistry 212
General Chemistry II
4
2,3
Geology 326
Petrology
4
2,3
Mathematics 201
Calculus I
3
2,3
Mathematics 202
Calculus II
3
2,3
Physics 152 or 262
General Physics II or Physics II2
4
3,4
Electives in CHE, ENV, GOL, MAT, or PHY at or above 300-level
6-8
3,4
Capstone Experience in Geoscience - Select one the following:
Geology 450
Research in Geoscience
3
4
Geology 460
Field Experience in Geoscience3
3
4
Geology 470
Internship in Geoscience
3
4
27-29
B.A. in Geoscience
Biology 211
General Biology I
4
2,3
Environmental
Science 201
Introduction to Environmental Issues
3
2,3
Physics 116
Astronomy: A Study of the Universe
3
2,3
10
Electives
The student must complete sufficient elective courses to earn at least the minimum credit hours required for this degree, and at least 64 credit hours of the 128 required for the B.S. or at least 90 credit hours of the 120 required for the B.A. must be in the liberal arts and sciences.
1 Some students may develop an interest in geoscience while taking GOL 105 for Core. In such instances, students may substitute GOL 105 for GOL 225 by also successfully completing GOL 225 Lab while registered for 1 credit of GOL 390.

2 For students interested in continuing on to graduate studies in earth and environmental science, the calculus-based physics courses PHY 261 and 262, for which MAT 201 Calculus II is a pre-requisite, are highly recommended.

3 The field course may be taken external to the college and the credits transferred. The department will maintain a list of pre-approved field courses and will consider others by petition.

Top
Admissions Events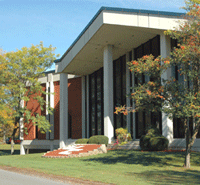 JOIN US ON CAMPUS:

EXPERIENCE UC

Meet students and faculty, tour campus, and join us for lunch.
Learn more / register


SATURDAY INFO SESSIONS
Q&A with staff followed by a campus tour.
Learn more / register
OPEN HOUSE
Learn more about programs, financial aid, student life, more.
Learn more / register
Upcoming events >
Share
|