Major in Geoscience
Bachelor of Science / Bachelor of Arts Degree •
School of Arts and Sciences



Studying Geoscience: The UC Advantage


U
C's
major in geoscience is a broad, interdisciplinary program comprising geology, oceanography, meteorology, astronomy, and environmental science. It provides you with an extremely well-rounded understanding of the Earth and its complex systems, preparing you for a broad range of professions that address global environmental issues and related challenges. Take a look at the short
video
linked to this page that provides an overview of what the Geosciences today are and have to offer!
Taught by a highly accomplished faculty, the Geoscience program offers students the benefit of an impressive suite of advanced instrumentation, including hydrometers, a current meter, and microscopes for sedimentological analysis. (
View available technology
.) Field study opportunities are enhanced by the College's proximity to a variety of earth and environmental resources, such as the Utica marsh, the Adirondack and Catskill mountains, and the Great Lakes region.
Curriculum

The Geoscience major offers two degree options:
The Bachelor of Science option is designed to prepare students to work in applied earth and environmental science or pursue graduate studies in geoscience or related disciplines. A capstone experience such as a field course, directed research, or internship will be required of students receiving the B.S. to integrate liberal and professional study.

The Bachelor of Arts option is designed to provide substantial breadth in science preparation by also including coursework in biology, environmental issues, and astronomy, allowing students greater flexibility in tailoring the degree to meet their needs and interests.
For specific program details, see
academic requirements >
Program Student Learning Goals

Career Outcomes

Graduates of UC's geoscience program enter an expanding market for their skills, with above average job growth predicted for positions in:
Hydrdology
Environmental science
Geoscience majors are also prepared for careers in:
Oil and gas exploration and development
Resource management
Education
Admissions Events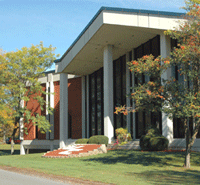 JOIN US ON CAMPUS:

EXPERIENCE UC

Meet students and faculty, tour campus, and join us for lunch.
Learn more / register


SATURDAY INFO SESSIONS
Q&A with staff followed by a campus tour.
Learn more / register
OPEN HOUSE
Learn more about programs, financial aid, student life, more.
Learn more / register
Upcoming events >
Share
|