Major in Biochemistry
Bachelor of Science Degree • School of Arts and Sciences

Biochemistry Major

Faculty


Daniel A. Barr, Ph.D.
Associate Professor of Chemistry
Phone: (315) 792-3395
Office: 276 Gordon Science Center
http://dl.dropbox.com/u/21222766/Website/index.html
Biography
---
Dr. Daniel Barr received his Ph.D. from Arizona State University in 2011 and joined the UC faculty in the fall of the same year. He teaches biochemistry, general chemistry, and introduction to organic and biochemistry. His research focuses on understanding the mechanisms of protein-DNA binding using both computer simulations and traditional experiments.
Originally from Philadelphia, Pennsylvania, Daniel grew up in the Harrisburg area in Pennsylvania before heading out to Phoenix, AZ for college. During his undergraduate studies, he worked in synthetic organic chemistry making antenna compounds for artificial photosynthetic arrays. He spent about a year in chemical education research that bridged his undergraduate and graduate studies at Arizona State University, then moved into biophysical chemistry for his Ph.D. Under the direction of Dr. Arjan van der Vaart (now at University of South Florida), he used computer simulations to study conformational changes in the ERK2 kinase and the lac repressor headpiece – O1 operator protein-DNA complex. During his graduate career, he served as a teaching assistant for 9 semesters in general chemistry, introduction to physical chemistry, and biophysical chemistry.
Outside the lab, Daniel enjoys playing baseball/softball, reading (mostly fantasy or historical fiction), and playing the piano. He also plays his Xbox360 to relax and unwind after long days; his favorite games include MLB 2K11 (Phillies all the way!!), Medal of Honor, Call of Duty, and any Star Wars game that involves lightsabers.




Research Interests
One of my chief research interests is to understand how proteins recognize specific sequences of DNA. While full-length proteins utilize a variety of mechanisms to recognize DNA sequence, mutation studies have shown that changing only a few residues in the protein can lead to dramatic differences in sequence recognition. In my research group, we will use computer simulations to study the interactions between proteins or peptides with different DNA sequences to gain an understanding of the physical and chemical interactions that are responsible for sequence recognition.
In conjunction with the computational/theoretical studies, my research group will also design and synthesize short peptides or bio-functionalized nanoparticles in an effort to observe differential sequence recognition by such small molecules. This work could have important implications for drug design research.
Finally, I am interested in developing artistic representations of biomolecular compounds which are both aesthetic and informative. These images, movies, etc will be useful both in the classroom and in outreach to the community.
Selected Publications and Presentations
D. Barr, A. van der Vaart. The natural DNA bending angle in the lac repressor headpiece - O1 operator complex is determined by protein-DNA contacts and water release. PCCP, submitted (2011).
D. Barr, T. Oashi, K. Burkhard, S. Lucius, P. Shapiro, A. D. MacKerell Jr., A. van der Vaart, The importance of domain closure for the auto-activation of ERK2. Biochemistry (2011), DOI: 10.1021/bi200503a.
Daniel Barr and Arjan van der Vaart, "Molecular Dynamics Studies of the ERK2 Tyrosine Kinase." Biophyiscal Society National Meeting, San Francisco, Feb 21, 2010. (Poster)
Thomas W. Martin and Daniel Barr. "Visualizing the Natural History of Biological Molecules." Hawaii International Conference on Arts and Humanities, Honolulu, HI, January 11-14, 2008.
Daniel A. Barr, Devens Gust. "Synthesis and characterization of a model photosynthetic antenna." 19th Rocky Mountain Regional Meeting of the American Chemical Society, Tucson, AZ, October 16, 2006.
Daniel A. Barr, Scott E Thompson, Nathan J. Barrows, and Janet Bond-Robinson. "What are they thinking? Triangulating students understanding in biochemistry." 19th Biennial Conference on Chemical Education, Purdue University, West Lafayette, IN, July 31, 2006.
Daniel A. Barr, Nathan J. Barrows, Scott E Thompson, and Janet Bond-Robinson. "Developing thematic concept inventories in organic chemistry." 231st National Conference of the American Chemical Society, Atlanta, GA. March 26-30, 2006. (Poster)
---
Admissions Events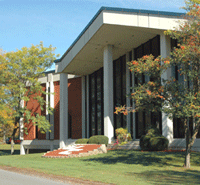 JOIN US ON CAMPUS:

EXPERIENCE UC

Meet students and faculty, tour campus, and join us for lunch.
Learn more / register


SATURDAY INFO SESSIONS
Q&A with staff followed by a campus tour.
Learn more / register
OPEN HOUSE
Learn more about programs, financial aid, student life, more.
Learn more / register
Upcoming events >