Admissions
Applying To Utica College

Freshman Students


AFFECTED BY TEXAS FLOODS? CONTACT US.

Students affected by the recent flooding in Texas are encouraged to
contact the Office of Admissions
to discuss application deadlines and possible extensions.
Apply now:
ON CAMPUS PROGRAMS:

Apply Online: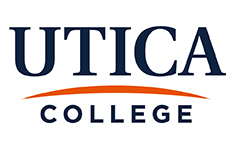 Use Utica's Application >
Note: Be sure to print high school report form, fill out student section, and submit to your school counselor for completion. Application is not complete without high school report.


Apply By Mail:
Note: Print application form includes high school report.
ONLINE PROGRAMS: