Major in Cybersecurity
Bachelor of Science Degree • School of Business and Justice Studies



Studying Cybersecurity: The UC Advantage



T
he

cybersecurity major at Utica College offers the most extensive coursework in digital forensics and investigation currently available. It is an innovative, multidisciplinary program that provides the critical skills you need to succeed in this highly specialized profession.
Part of UC's internationally respected suite of economic crime and justice studies programs, the cybersecurity and information assurance major is designed to address the growing demand for expertise in defending critical infrastructure - public and private - from the threat of cyberattack. It enables you to play a crucial role in this fight.

Curriculum

The program integrates learning in criminology, criminal justice, economic crime, and computer science.
The curriculum features:
strong, diverse background study in liberal arts
development of skills for investigators and technologists
focus on writing, critical thinking, mathematics, statistics, and law
The program offers five specializations:
Network Forensics and Intrusion Investigation - Combines elements of computer science with computer forensics and vulnerability assessment. Learn to investigate cyber related incidents in a computer network environment.

Information Assurance – Gain an understanding of the wide range of vulnerabilities and threats that affect corporate and government computer networks and be prepared to protect critical information in cyberspace.

Cybercrime and Fraud Investigation - Learn the latest techniques used to accumulate data and evidence in prosecuting cybercrimes, such as credit card fraud, intellectual property theft, pedophilia, terrorism, hacking, and more.

Homeland Security and Emergency Management - Gain an understanding of public administration and technology challenges related to homeland security, counter-terrorism and emergency management, as well as the national incident management system.

Cyber Operations - Learn defensive and offensive tactics, techniques and procedures. Focus on computer programming, as well as operating systems, vulnerability assessment and penetration testing.
UC's cybersecurity major is:
taught by accomplished professionals with extensive experience in the field
supported by advanced forensic technologies and research resources available in UC's state-of-the-art Economic Crime, Justice Studies, and Cybersecurity facility
For specific program details, see
academic requirements >
Program Student Learning Goals
Online Program

The cybersecurity and information assurance major also offers an option for online study. For details, see
online cybersecurity program details >
Utica College also offers a
master's program in cybersecurity - intelligence and forensics with specializations in intelligence, forensics and cyber operations.
Career Outcomes

The cybersecurity and information assurance major at Utica College prepares you for career-track positions in a range of fields, including:
Corporate and industrial security
Law enforcement
Government intelligence services
Banking and finance
Homeland security
...as well as graduate study in related disciplines.
Program Designations
Designated a
National Center of Academic Excellence in Information Assurance/Cyber Defense Education (CAE IA/CD)
by the
National Security Agency
(NSA) and Department of Homeland Security (DHS)
Designated a
National Center of Digital Forensics Academic Excellence (CDFAE)
by the
Defense Cyber Crime Center
(DC3)
Admissions Events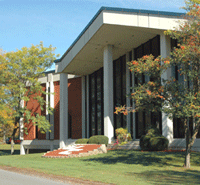 JOIN US ON CAMPUS:

EXPERIENCE UC

Meet students and faculty, tour campus, and join us for lunch.
Learn more / register


SATURDAY INFO SESSIONS
Q&A with staff followed by a campus tour.
Learn more / register
OPEN HOUSE
Learn more about programs, financial aid, student life, more.
Learn more / register
Upcoming events >
Share
|