Major in Therapeutic Recreation
Bachelor of Science Degree • School of Health Professions
and Education



Studying Therapeutic Recreation: The UC Advantage


O
ne
of only a handful of programs in the discipline nationwide, the therapeutic recreation major at Utica College combines liberal arts learning with professional training and real-world experiences, helping you develop the in-depth technical and theoretical skills necessary for entry level competence in this growing profession.
Taught by an accomplished faculty with extensive experience in the field, the major in therapeutic recreation is also unique in its focus on the clinical-medical aspects of the discipline as well as the philosophical foundation of recreation. Students participate in fieldwork through area agencies, conduct projects, and are involved in organizing interventions for various populations.

Curriculum

The therapeutic recreation major at Utica College features academic and practical work in all aspects of the discipline, including:
History and philosophy of recreation
Recreational services and leadership
Leisure counseling
Assessment and evaluation
Organization, administration, and supervision
... as well as major-related learning in the health sciences. Students work with a variety of health sciences-related learning resources across campus, including the state-of-the-art laboratories in
F. Eugene Romano Hall
.
The curriculum includes a 525- to 600-hour internship experience that may be completed in professional settings across the United States.
For specific program details, see
academic requirements >
Program Student Learning Goals

Career Outcomes

The therapeutic recreation major prepares you for career opportunities in:
Physical medicine and rehabilitation
Mental and behavioral health
Nursing homes and other programs serving older adults
Residential care for people with developmental disabilities
Youth programs
Community based programs for people with and without disabilities
...and other fields. UC therapeutic recreation alumni have taken leadership positions at:
Beckwith Health Care (Philadelphia, PA)
St. Lawrence NYSARC
Bergen Regional Medical Center (Paramus, NJ)
Masonic Care Community (Utica, NY)
MaineHealth
Upstate Cerebral Palsy
Admissions Events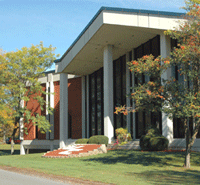 JOIN US ON CAMPUS:

EXPERIENCE UC

Meet students and faculty, tour campus, and join us for lunch.
Learn more / register


SATURDAY INFO SESSIONS
Q&A with staff followed by a campus tour.
Learn more / register
OPEN HOUSE
Learn more about programs, financial aid, student life, more.
Learn more / register
Upcoming events >
Share
|