Utica College Edith Langley Barrett Fine Art Gallery


Exhibit Archive

April 9 to May 9, 2008
Keith Howard - Invitational Exhibit

"In the Garden of Eve": Artifacts of Creation
Exhibit Review

by Graham Fowler

Associate Professor,
University of Saskatchewan
Keith Howard's paintings collapses the temporal space of past and present by taking the pictorial vocabulary of the Renaissance and reininterpreting these traditional subjects and stylistic expressions to interrogate contemporary representations of gender, myth and authorship.
Read full text >

Artist Talk:

April 9, 12:30 p.m. in Library Concourse
(Jackson Lunch Hour Series)


Exhibit Days:

Monday - Friday: 1:00 - 5:00 p.m.
Saturday: 1:00 - 4:00 p.m.

Exhibit Details:

This is the first one-person oil painting exhibition from internationally acclaimed educator, author, artist, non-toxic printmaker, and innovator, Keith Howard. Howard serves as Head of Contemporary Printmaking and Research at the School of Art at the Rochester Institute of Technology. He is recognized as the foremost authority within the field of non-toxic intaglio printmaking and has provided over 100 workshops on his non-toxic printmaking innovations across the world.
In keeping with the Keith Howard tradition of inventing something new and challenging artistic explorations for 'new and first', this exhibition introduces a new genre of artistic conception. These works become a 21st century prototype of a global artisan workshop made possible through the advancements of digital photography and internet communications. The art in "In the Garden of Eve" : Artifacts of Creation carry forward the tradition of storytelling and narratives from the field of Printmaking while the act of collaboration becomes a new story in the long history of artisan creativity.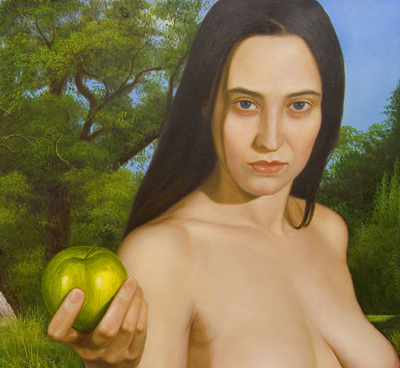 Howard has collaborated with two individuals in the development of this series of paintings. The first is art school model Ms. Michelle C. Long. Michelle creatively interprets the 'Eve' in each painting. The second contributor is Mr. Xiang Ming Lin, a highly skilled copy artist from China.
The "Garden of Eve" paintings are a parody of one of the world's well known creation stories. "Artifacts of Creation" are meant to describe both the story and reveal the telltale signs that the origins of these oil paintings are in fact, digitally manipulated photographs. All images are original works of Howard beginning with the panoramic landscapes photographed during his travels around the globe and created using Adobe Photoshops' Photomerge. Added to this array are selected shots from Keith's extensive image bank of over 1000 digital photographs showing Eve posing with an apple. Rather than working in the common post-modern practice of appropriation of others images Howard mines his own extensive image banks to construct the narrative by the juxtaposition of 'Eve' within the panorama. All chosen and combined images were then extensively manipulated in Adobe Photoshop. The final digital images were emailed to China, where Mr. Xiang Ming Lin created faithful oil painting reproductions.
Pan oceanic and cross cultural communication engaged and use of digital technology as tools in service to this collaboration between artists. Within this innovative work we see one of the artisan traditions of printmaking, that of the Master Printer making original prints for painters, become reversed in its sense of order. Now the 'Master Painter' is the artisan making original oil paintings for the Printmaker creating this new genre of global artisan workshop.
Additional artist information:

http://www.waterbasedinks.com/keith.html
http://inside.rit.edu/aboutrit/
Keith Howard's Image Gallery& Workshop Information:

http://www.waterbasedinks.com
Contact the artist at:

KeithHoward@keithHoward.org
Back