Residence Life
Be an RA!

Resident Assistants (RAs):
Resident Assistants have the most frequent and direct communication with resident students, and therefore, have the greatest opportunity to contribute to the development and education of individuals.
Through the implementation of programs and policies, accomplishing our five goals is possible. These goals are:
Providing for the developmental needs of the individual in a professional and personal manner
Celebrating the diversity of the Utica College community and challenging our students to continually expand their world view.
Enhancing the Utica College experience for all campus community members through personal effort, clear and consistent information, and engaging programs.
Empowering student staff to take a role in fulfilling this mission.
Collaborating with campus departments in the operation of safe, secure, and well-maintained residence halls.
As a staff member of SLCE, the Resident Assistant will be taking on many challenges. It is our hope that those challenges will be instrumental in his/her own personal growth and development.
Hiring Process:

The SLCE Office at Utica College hires RAs in both the Fall and Spring Semesters. The big hiring season is in the Spring because there are generally more positions open in the Fall, but if we have need for additional RAs, we will run a hiring process to fill vacancies or populate the alternate list in the Fall semesters.
The hiring process consists of an application followed by a Group Process Experience and finally an individual interview. Applications generally open in February and the online ink to the application can be found on the Student Living website when open.
Frequently Asked Questions:
1. What are the general requirements to be an RA?
Students must be in good conduct within the College environment (not currently under a disciplinary sanction), must have been a student at Utica College one semester previous to employment,
must have at least a 2.25 GPA the semester previous to employment, in addition to a 2.25 cumulative GPA at the time of employment and must also maintain a 2.25 during the time of employment (this does not include transfer GPAs).
2. Will I have to sign a contract?
Yes, RAs are under contract to the Executive Director of Student Living and College Engagement. They report to, and are directly supervised by, an Area Coordinator. If the terms of the contract are broken by an RA, judicial action will be taken and may result in termination from the RA position.
3. Will I have control over what room/floor/building I live in?
Position placement of RAs will be determined by the professional staff in the SLCE office.

4. What compensation will I receive for being an RA?
RAs get free housing and a stipend.
5. I see RAs "on duty". What does that mean?
RAs work rotating shifts sitting at the main desk and conducting "rounds" (walking around the floors of the building) with the other RAs in their buildings. Sunday through Thursday, the shifts are from 8:00pm-11:00pm. Friday and Saturday, the shifts are 8:00pm-2:00am.
6. Do RAs have to stay over breaks, on weekends and during holidays?
Depending on the rotating shifts worked in conjunction with other RAs in the building, there will be times RAs are required to work on weekends, breaks and holidays. Days students are not available can be communicated to their Area Coordinator, but SLCE also has a listing of important working days that the RAs agree to be available for when accepting the position.
7. Do RAs have roommates?
RAs do not have roommates. RAs could be living in suites with other students, but never in the same room.
8. I have another job (off-campus, work-study). Can I keep it and still be able to be an RA?
Yes.
9. Can I join a student organization while an RA?
Applicants and RAs can be previous members or become new members of clubs and organizations. However, students working in their first semester as a new RA may not undertake any recruitment processes with Greek-letter fraternal organizations during their first semester of employment.
10. How many credit hours do I have to take?
RAs must be on-ground full-time students (enrolled in at least 12 credits) during their employment.
11. Can I student teach or intern as an RA?
Special circumstances can be discussed with the AC or AD during the application process.
12. Can I be a part-time student and be a RA?
No.
13. Can I still apply if I plan to study abroad?
Special circumstances can be discussed with the AC or AD during the application process. RAs who have a position and then study abroad will have a position when they return.
14. If I lived off-campus, can I apply?
Yes, students who have lived off-campus can apply. Generally, we prefer to hire students who have on-campus living experience. Transfer students who have lived on campus at any prior institution may apply.

15. How many positions are available?
Availability of positions depends on how many students are leaving the RA position at the end of the semester. Generally, there are more open positions being hired in the Spring for the Fall semester because of graduating students, however, SLCE will run the hiring process in the Fall for the Spring semester if we have vacancies.
16. How long would I be an RA?
Once hired, you can keep the position until you leave Utica College, even extending into your Graduate work. RAs do not have to reapply to continue their employment. Students on the Alternate List do have to reapply to potentially receive an RA position offer or stay on the Alternate List.

17. Am I expected to know how to plan programs or handle crisis situations?
RAs go through an extensive training program as well as in-service training throughout the year. We will teach you everything you need to know!




---
OFFICE OF STUDENT LIVING AND COLLEGE ENGAGEMENT
SafeZone Program:
The Gay Alliance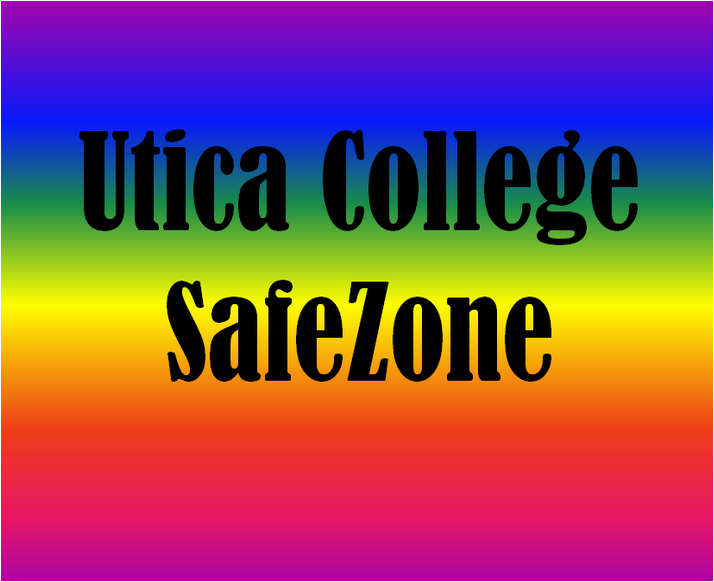 Adapted from www.GayAlliance.org
The SafeZone program was created to develop, enhance and maintain environments in workplaces, schools and other social settings that are culturally competent and supportive to LGBTQ (lesbian, gay, bisexual, transgender and queer/questioning) individuals, as well as straight, cisgender people who care about diversity, equality and inclusion.

What is a SafeZone?
A safe zone or a safe space is a place where all people feel welcome and safe. It may be a room, a car, or an entire college campus. The Gay Alliance SafeZone program aims to increase the awareness, knowledge, and skills for individuals and address the challenges that exist when one wants to advocate for their LGBTQ peers, family members, friends and co-workers. Creating safe zones or safe spaces is a proactive step that schools, agencies and corporations can take to create welcoming, inclusive spaces so that all people are empowered to reach their full potential.

Sponsored by the Diversity Committee
Contact Dean of Diversity and Student Development Alane Varga at avarga
@utica.edu
for more information or how to become SafeZone Certified