Student Activities
Graduate Attendance Notification - RSVP
The Attendance Notification - RSVP form has been combined with the Regalia Order form for the May 2019 Commencement Ceremony to streamline the

process

. The form can be accessed here or via the link in the left hand column.


Students wishing to participate in the Graduate Commencement Ceremony MUST

notify

Utica College of this intention by submitting an RSVP by March 15, 2019.

Failure to RSVP by the deadline means a student will NOT be allowed to participate in the commencement ceremony.





---
OFFICE OF STUDENT LIVING AND COLLEGE ENGAGEMENT
SafeZone Program:
The Gay Alliance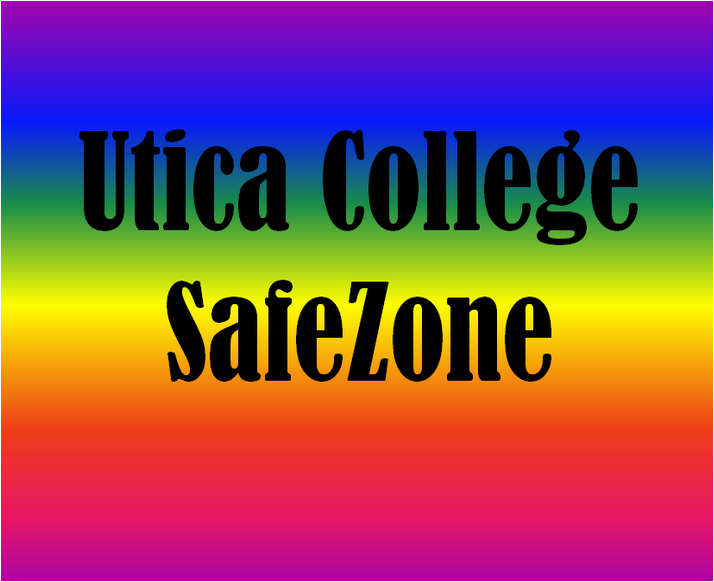 Adapted from www.GayAlliance.org
The SafeZone program was created to develop, enhance and maintain environments in workplaces, schools and other social settings that are culturally competent and supportive to LGBTQ (lesbian, gay, bisexual, transgender and queer/questioning) individuals, as well as straight, cisgender people who care about diversity, equality and inclusion.

What is a SafeZone?
A safe zone or a safe space is a place where all people feel welcome and safe. It may be a room, a car, or an entire college campus. The Gay Alliance SafeZone program aims to increase the awareness, knowledge, and skills for individuals and address the challenges that exist when one wants to advocate for their LGBTQ peers, family members, friends and co-workers. Creating safe zones or safe spaces is a proactive step that schools, agencies and corporations can take to create welcoming, inclusive spaces so that all people are empowered to reach their full potential.

Sponsored by the Diversity Committee
Contact Dean of Diversity and Student Development Alane Varga at avarga
@utica.edu
for more information or how to become SafeZone Certified