Strebel Dining Commons
Located on the second floor in Strebel Student Center, the Strebel Dining Commons is an all-you-can-eat dining hall that offers a variety of freshly prepared food selections and serves hot breakfast, lunch, and dinner. The dining hall is open continuously from morning until night, closing only in instances of special events. The upstairs area in the dining hall has comfortable seating, offers many electrical outlets for studying, cha and a separate drink station. There is also a quiet glass dining room off the end of the dining hall that looks over the Clark Lounge.
Other Dining Options on campus include Le Bistro in Gordon Science Center featuring Starbucks Coffee and Common Grounds in the Gannett Library featuring Utica Coffee.
If you're interested in viewing some photos of the recent renovation of Strebel Dining Commons,
click here
!
Pioneer Pub

"The Pub" has a variety of offerings for UC students, including a bar area that sells local beer (bottled and on tap) and wine, a pool table, dart boards, a stage for performances, and the Commuter Corner, equipped with comfortable seating and free coffee for commuters with the appropriate refillable mug. It also houses two additional food establishments.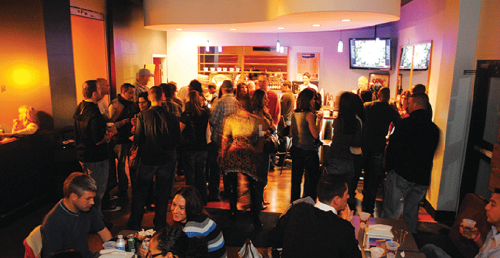 Pioneer Café

The Pioneer Café provides classic grill favorites, breakfast items, hot coffee, as well as sandwiches, wraps, soups and salads. There's even a F'real machine where you get fresh mixed smoothies and milkshakes throughout the evening and night. We also have items for vegetarian, vegan, and gluten-free diets. Just outside in the hall area, "Trax Snax" offers a late-night grocery store feel, selling cereal, snacks, drinks, and other nightly goodies.
Tres Habaneros
This establishment was added in the Spring of 2018. "Tres" sells common Mexican street food like burritos, quesadillas and nachos, made with fresh ingredients and served exactly how the customer orders.
For menus and hours, visit
uticadiningservices.com
.