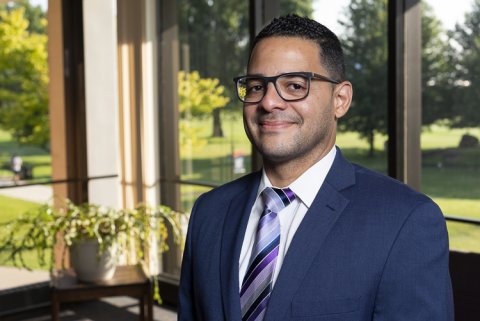 Position
Associate Professor of Communication Arts
Phone
(315) 792-2324
Email
Office
106 DePerno Hall
School of Arts & Sciences
Position type
Biography
Dr. Wilfredo Alvarez's (preferred pronouns: he/him/his) teaching and research focus on communication issues related to social identity (i.e., race, ethnicity, social class, immigration, gender, sexual orientation, and ability status). Specifically, he is interested in how micro (personal relationships), meso (groups and organizations) and macro-level (popular culture) communication practices (e.g., pervasive discourses of race and gender) are deployed institutionally to create, maintain, and resist systems of oppression, discrimination and social inequality in U.S. society. He primarily teaches courses in intercultural communication, interpersonal communication, organizational communication, communication and diversity, conflict communication, leadership communication, and communication theory.
In his free time, Dr. Alvarez enjoys traveling, CrossFit, watching classical Hollywood cinema, giving belly rubs to his rescue pup named Davis, and stimulating conversations with friends, family, and strangers.
Education
Dr. Alvarez earned a B.S. in communication and information technology from the Rochester Institute of Technology, an M.S. in interpersonal communication from Florida State University, and a Ph.D. in intercultural communication from the University of Colorado.
Past Research
Dr. Alvarez's research has appeared in Management Communication Quarterly, the Journal of Student Affairs Research and Practice, Liminalities: A Journal of Performance Studies, and Inter/Cultural Communication: Representation and Construction of Culture in Everyday Interaction (Kurylo, Ed.).
I would like to see logins and resources for:
For a general list of frequently used logins, you can also visit our logins page.