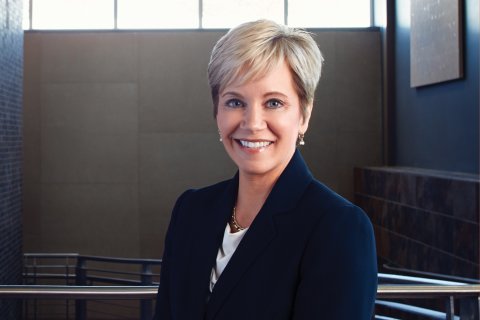 Position
Phone
(315) 792-3222
Email
Office
President's Office
206 DePerno Hall
Position type
Biography
Laura Casamento became the ninth president and fourteenth chief executive officer of Utica College on August 1, 2016. She is the second president selected by the independent Board of Trustees, and the first woman to serve as president in the 70-year history of the College.
She earned an Ed.D. from the University of Pennsylvania and an M.B.A. from Rensselaer Polytechnic Institute.
A first-generation college graduate, Laura is a passionate and learned supporter of college accessibility and affordability. She was a principal architect of Utica College's tuition reset, which has garnered national attention from federal and state law and policy makers, media, and, most important, students and families.
During the first three years of her presidency, the College has reduced average student debt by one third and steadily raised student persistence and graduation rates. Admissions yield has increased by five percentage points, while the College has increased the academic caliber of incoming students each year.
Under her leadership, the College has invested $21 million in capital improvements without incurring institutional debt. These expansion projects have included a new dedicated Construction Management building and a $4 million renovation to the Dining Commons. In the summer of 2020, the College anticipates breaking ground for a significant science center expansion.
Laura has also implemented policies that have brought about major improvements in the College's financial profile over the course of her tenure. Since she assumed the presidency, the College has seen three consecutive years of cash operating surpluses in excess of $5 million and last year took in a record $4 million in total fundraising.  
Laura has more than twenty-five years of senior executive experience in the private sector and higher education. Prior to joining Utica College in 2004 as vice president for institutional advancement and, later, executive vice president and chief advancement officer, she was president and chief operating officer of Herkimer County Trust, an independently owned, state chartered bank located in central New York. She served as president from April 1998 until December 2002, when the bank was sold to The Savings Bank of Utica (now part of M&T). The bank had assets of $350 million and 12 retail locations. She oversaw a 65 percent increase in net income during her tenure as president, resulting in the bank being sold at nearly 2.5 times book value.
She currently serves on the boards of directors for the Commission on Independent Colleges and Universities, the Mohawk Valley Economic Development Growth Enterprises (EDGE), and the Community Foundation of Herkimer and Oneida Counties, and is a member of the Empire 8 President's Council. She is the co-chair of the Utica Downtown Revitalization Initiative. She has previously served on the boards of Excellus – Utica Region, Patriot Federal Bank, and the Kelberman Center for Autism Services, was a member of the Strategy Team for MV500, and was campaign chairperson for the United Way of the Greater Utica Area.
Laura is married to Filippo Casamento, and together they have five children and five grandchildren.
I would like to see logins and resources for:
For a general list of frequently used logins, you can also visit our logins page.