An Integrated Program, Focused on Success

The foundation for Utica University's undergraduate academic program is a commitment to liberal education integrated with professional study. At Utica, you gain practical, career-focused knowledge and experiences while developing the intellectual skills you need to succeed, not only in your career but throughout your life as a flourishing individual and responsible citizen.
Institutional Learning Goals
Students will develop abilities foundational to a liberal arts education and professional study.
Students will explore multiple disciplinary perspectives to understand the world.
Assessment
Utica University's faculty have developed ways to assess how well students have mastered the five skills. Our commitment to students is that they will have made significant and measurable progress towards mastering these skills by the time they graduate.
---
Learning at Utica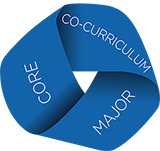 ---
There are three aspects of learning at Utica:
CORE PROGRAM
ACADEMIC MAJOR
CO-CURRICULUM
Learning at Utica University
Congratulations to the following students who were eligible to participate in the 2022 Utica University Graduate Commencement ceremonies. Please note...
Congratulations to the following students who participated in the 2022 Utica University Undergraduate Commencement. Please note that there are instructions...
Two seats were reserved for Alyssa Parrino and John Paul "JP" Ramel in the front row of 2022 Undergraduate Commencement to represent the special place they hold in the thoughts of the Utica community.
I would like to see logins and resources for:
For a general list of frequently used logins, you can also visit our logins page.