Campus Safety
SHELTER IN PLACE
WHAT IT IS:


Shelter in place is a precaution aimed to keep you safe while remaining indoors. All individuals are urged to find an interior room with few or no windows.


SHELTER IN PLACE CAN BE USED FOR:


• Chemical, radiological, or biological threats
• Inclement weather


WHAT TO DO?


• Remain Calm
• Instructions will be sent out via UC ALERT
• Immediately seek shelter nearby, do not evacuate
• Be mindful of your location compared to the incident
• Follow instructions you have received and do not leave until you have received an alert indicating it is safe to do so


---
To Reach A Safety Officer
Campus Safety Officers are available 24 hours a day and may be reached at the following numbers:


On Campus:

3046
or
611
Off Campus & Cell Phones:

315-792-3046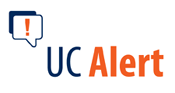 Get The (Text) Message.

UC Alert
helps keep you informed about safety concerns as they emerge.
Learn more →