SUPPORTING UC

Advancement at Utica College


W
e are at the commencement
of a new era of achievement in the history of Utica College. It will be a time of great promise as well as significant challenges, and we have already started the first chapter.
As we take the next step on this remarkable journey, we will continue to define our own destiny – as we have always done – through our abiding commitment to the values upon which UC was founded.

Current Priorities



The Gordon Science Center Capital Project

Annual Fund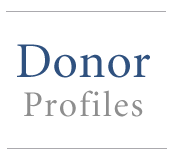 Advancement News


SD Foundation Awards Grants to UC for Medical Education
Grants Total Nearly $20,000 for Nursing, Geriatric Education
Written By Colleen Bierstine '15, PR Intern
Grants support education of medical professionals
Contact - cleogrande@utica.edu
Utica, NY (08/04/2014)
- Slocum-Dickson Foundation, Inc., awarded two grants totaling $19,355 to two of Utica College's medical educational programs.
A grant of $13,855 will be applied toward the purchase of an interactive human patient simulator of color to aid UC nursing students in building the skills, clinical judgment and cultural sensitivities required for effective patient care and management through scenario-based training.
A grant of $5,500 will support the Utica College Geriatric Scholar Certificate Program in the Greater Utica/Mohawk Valley region for 2014 to 2015. The program provides essential training in geriatric health care to many types of health and human services professionals who are involved in caring for the elderly.
The human patient simulator of color complements the existing simulation equipment purchased over the years through the generous support of the Slocum-Dickson Foundation.
"This continued partnership between Slocum-Dickson Foundation and Utica College strengthens the college's ability to prepare a well-educated and highly skilled professional health care workforce to meet the critical demand in the region," said Nancy Vaccaro, assistant professor of nursing.
The interactive human patient simulator of color features multi-language vocal interaction, heart sounds, lung sounds, bowel sounds, non-invasive blood pressure measurement and pulses.
"The human patient simulator of color will help UC students develop the knowledge, skills and cultural sensitivity required to enter a variety of clinical settings with increased confidence and competence, and provide high-quality, culturally competent care to an increasingly diverse patient population," Vaccaro said.
The Geriatric Scholar Certificate Program will continue to assist in the improvement of the quality of life for seniors by educating current and future health care professionals about social gerontology and medical geriatrics. All participants who attend UC's Geriatric Scholar Certificate Program will receive a certificate of completion from the Consortium of New York Geriatric Education Centers (CNYGEC).
Utica College's School of Health Professions and Education provides students with educational experiences that will develop their ability to think clearly and critically and to express themselves accurately. It is home to undergraduate health-related programs in nursing, psychology-child life, therapeutic recreation and health studies, as well as masters programs in occupational therapy (both traditional and in a weekend format) and two doctor of physical therapy programs. A minor and certificate program in gerontology and undergraduate and graduate programs in teacher education are also housed in this school.
For more information about Utica College's School of Health Professions and Education, visit http://www.utica.edu/academic/hhs/nursing/.
About Utica College – Utica College, founded in 1946, is a comprehensive private institution offering bachelor's, master's, and doctoral degrees. The College, located in upstate central New York, approximately 90 miles west of Albany and 50 miles east of Syracuse, currently enrolls more than 4,000 students in 36 undergraduate majors, 27 minors, 21 graduate, pre-professional and special programs.