Department of Business and Economics
Department of Business and Economics


Faculty

Utica College's business and economics faculty are nationally and internationally recognized for their scholarly accomplishments as well as for their real-world business experience. Collectively they represent a wide range of expertise and research interests, including health care financing, public school aid formulas, banking, and managing change.
At the same time, at Utica College, teaching is the faculty's first priority. Small classes provide opportunities for close interaction between and among faculty and students, and the relationships students form with their professors often last a lifetime.
The overwhelming majority of faculty are doctorally trained; several additionally hold an M.B.A. Faculty regularly share their expertise by serving as members of professional organizations, presenting at scholarly conferences, and consulting with local businesses and government agencies. These connections help faculty develop internship opportunities for students, and also serve as networking resources for UC graduates seeking employment.
The faculty's scholarly accomplishments, professional experiences, and academic credentials combine to provide students majoring in business and economics programs with a dynamic and fulfilling learning experience both inside and outside the classroom.
Ms. Elizabeth W. Burback , M.S.
Asst Professor PRL/Dig MKT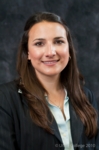 Phone: (315) 223-2472
Office: 181 Genesee Street, Suite 517
Biography
---
Elizabeth W Burback,
Assistant Professor of Public Relations and Digital Marketing, received her Master of Science in Communication and Media Technologies from Rochester Institute of Technology and her Bachelor of Arts in Communication from LeMoyne College. Elizabeth has worked in a number of full service communication agencies in both creative and account management roles. Her interests include digital media and the merging of the public relations and marketing fields. She is a Clinton native and is happy to be back in her hometown area.
Professor Burback currently is chair of the Business Department Marketing committee.