Major in Psychology
Bachelor of Arts / Bachelor of Science Degree •
School of Arts and Sciences


Psychology Major
Faculty
The psychology faculty prides itself on the individual attention its students receive both in and outside the classroom.
All of the department's full-time faculty members are actively involved in research. They welcome student participation in their projects and also supervise student research projects.
Dr. Steven M. Specht , Ph.D.
Professor of Psychology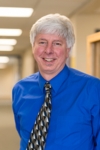 Phone: (315) 792-3171
Office: 206 Faculty Center
Biography
---
Dr. Specht was trained as a psychobiologist but has recently re-focused his research on investigating the factors which influence how individuals perceive artwork. Dr. Specht is also an award-winning collage artist. He teaches courses in research design and statistics, psychobiology and a course entitled "Psychology and the Visual Arts".
Curriculum vitae
Arts resume