Physical Therapy Program
Physical Therapy at UC

Physical Therapy Faculty

Dr. Gabriele R. Moriello , Ph.D.
Associate Professor of Physical Therapy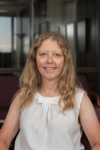 Phone: (315) 792-3261
Office: 313 Romano Hall
Biography
---
Gabriele Moriello earned her Doctor of Philosophy in Health Related Services at Virginia Commonwealth University in Richmond, Virginia. She has 13 years experience as a faculty member and 27 years clinical experience working with older adults and individuals with neuromuscular diagnoses.
Education
Bachelor of Science in Physical Therapy, Ithaca College
Master of Science in Allied Health, University of Connecticut
Doctor of Philosophy in Health Related Sciences, Virginia Commonwealth University
Clinical Experience
Home care
Outpatient
Subacute rehabilitation
Acute care
Content Expertise
Neuromuscular Physical Therapy
Research
Research Interests
Leisure, Sporting and Recreational Activities in those with Neuromuscular Diagnoses
Body Weight Supported Treadmill Training
Attitudes toward Older Adults and the Aging Process