College Events and Conference Programs
Professional Service
Service is our hallmark! Our experienced staff works with you to ensure your event is a success. Many organizations we serve return to our campus again and again because we work with them to guarantee the success of their event.
Conference Services at Utica College is one-stop shopping at its best.


A simple phone call takes care of meeting space, overnight accommodations, catering, media equipment … everything you need!

On-Site Conference Host
Every event is assigned an on-site conference host to ensure that your event runs smoothly and to attend to all details.
Program Development
Let our program development specialists assist you in designing your program-from determining program outcomes to securing speakers.
Program Coordination

Let our staff handle the coordination of all campus services, including: catering, overnight accommodations, meeting space reservations and room set-up, media and technical equipment, campus safety, signage, maintenance, and custodial.
Administrative Support
Let us hand the details: participant registration and confirmation, badge preparation, check-in/check-out service, materials coordination, Continuing Education Units (CEUs), budget management, and whatever else you may need.
Dining Service
Utica College's dining service provides a variety of food services, from "fast food" to "black tie." Receptions and cocktail parties, cafeteria-style and waited meals, snack bars, outdoor cookouts, banquets, and theme meals are just a few of the options available.
Media & Technology Services
Computer, slide, and overhead projectors; computer "smart carts"; TV/VCR units; flipcharts/easels; Internet access; microphone/sound systems; "smart" classrooms; and on-site technical support.
---
About Us
College Events and Conference Services
---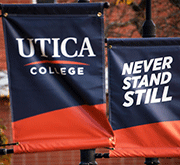 Office Location:
273 Gordon Science Center
View campus map →
Office Hours:
Monday – Friday
8:30 a.m. – 5:00 p.m.
8:30 a.m. – 4:30 p.m. (summer hours)
Meet our Staff:

Joni L. Pulliam, M.S.
Executive Director
Corporate Programs and Conference/Meeting Services
(315) 792-3344
jpulliam@utica.edu
Debra A. McQueary, A.A.S.

Coordinator for Conference and Meeting Services
(315) 792-3344
dmcqueary@utica.edu