College Events and Conference Programs
Location
Located in the picturesque Mohawk Valley of central New York, Utica College offers an idea combination of a safe, convenient campus within a lively small city. UC is located minutes from Interstate 90. Our campus is easily accessible to local, state-wide, and regional organizations desiring a central meeting site.
The Utica area abounds with attractions and entertainment that supplement many organizations' meeting agendas. Nestled in the foothills of the Adirondack Mountains, hiking, canoeing, golf, and other outdoor activities are plentiful. The community is rich in cultural activities and the arts, including concerts, theater, museums, historic sites, and a nationally-recognized art institute. Shopping malls, specialty boutiques, and restaurants, many of which feature superb ethnic food, are also within minutes of Utica College.
For directions to Utica College and a map of the campus, please see
How to Find Us
.
---
About Us
College Events and Conference Services
---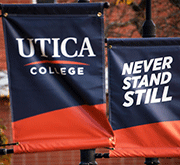 Office Location:
273 Gordon Science Center
View campus map →
Office Hours:
Monday – Friday
8:30 a.m. – 5:00 p.m.
8:30 a.m. – 4:30 p.m. (summer hours)
Meet our Staff:

Joni L. Pulliam, M.S.
Executive Director
Corporate Programs and Conference/Meeting Services
(315) 792-3344
jpulliam@utica.edu
Debra A. McQueary, A.A.S.

Coordinator for Conference and Meeting Services
(315) 792-3344
dmcqueary@utica.edu