College Events and Conference Programs
Facilities
Utica College offers a variety of flexible meeting spaces and facilities to meet the needs of both small and large groups.
Concourse Atrium


10,000 square feet multi-purpose conference/exhibition space with seating capacity for 400.

Auditoriums


Four separate auditoriums with seating capacity ranging from 135-250.

Gymnasium


14,000 square feet with seating capacity ranging from 800-2,000.

Conference Rooms


Conference rooms with seating capacity ranging from 10-60, some with Internet access.

Classrooms


Classrooms with seating capacity ranging from 10-40, some with internet access

Computer Laboratories


Networked computer laboratories offering both IBM-compatible and Macintosh computers with Internet access.

Residence Halls


Both single and double occupancy available with accommodations for up to 750 guests.




Multi-purpose, state-of-the art, lighted stadium with artificial turf; competition-size swimming pool; Nautilus, weight, and aerobic dance rooms; racquetball, tennis, and basketball courts; sand volleyball court; and soccer, baseball, softball, and lacrosse playing fields.
---
About Us
College Events and Conference Services
---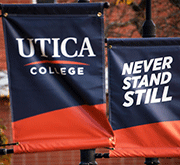 Office Location:
273 Gordon Science Center
View campus map →
Office Hours:
Monday – Friday
8:30 a.m. – 5:00 p.m.
8:30 a.m. – 4:30 p.m. (summer hours)
Meet our Staff:

Joni L. Pulliam, M.S.
Executive Director
Corporate Programs and Conference/Meeting Services
(315) 792-3344
jpulliam@utica.edu
Debra A. McQueary, A.A.S.

Coordinator for Conference and Meeting Services
(315) 792-3344
dmcqueary@utica.edu