College Events and Conference Programs
International ESL Summer Vacation Program


Information on this program will be available soon.

Please contact us for details.
---
About Us
College Events and Conference Services
---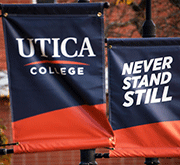 Office Location:
273 Gordon Science Center
View campus map →
Office Hours:
Monday – Friday
8:30 a.m. – 5:00 p.m.
8:30 a.m. – 4:30 p.m. (summer hours)
Meet our Staff:

Joni L. Pulliam, M.S.
Executive Director
Corporate Programs and Conference/Meeting Services
(315) 792-3344
jpulliam@utica.edu
Debra A. McQueary, A.A.S.

Coordinator for Conference and Meeting Services
(315) 792-3344
dmcqueary@utica.edu